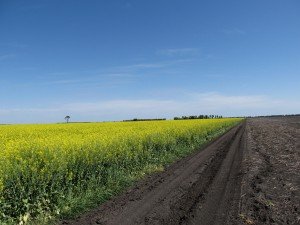 There are a num­ber of canola crops in this sea­son, and as the weath­er warms up the aphid num­bers are build­ing up in some of them. The aphids that colonise canola are most com­mon­ly the cab­bage and the turnip aphid. There may also be a few green peach aphid present.
The aphids colonise the ter­mi­nal end of the flower spike (raceme). Ear­ly infes­ta­tions can be dif­fi­cult to see in amongst the buds. As the pop­u­la­tions grow, they can expand down the stem caus­ing the raceme to dis­tort.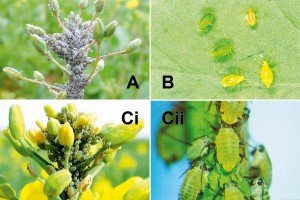 A. Cab­bage aphid B. Green peach aphid. Ci and Cii. Turnip aphid (pho­to: DAFWA)
The thresh­old for aphids in canola, devel­oped in WA, is: 20% of plants infest­ed with aphids.
Aphid infes­ta­tions are typ­i­cal­ly patchy, and often heav­ier on crop edges. Ensure that crop sam­pling cov­ers a rep­re­sen­ta­tive area of the crop, with a min­i­mum of 20 plants exam­ined at 2–3 loca­tions with­in the crop.
For more infor­ma­tion on the man­age­ment of aphids and oth­er pests in canola go to the fol­low­ing links.