Fall armyworm (FAW, Spodoptera frugiperda) is an exotic pest that was first detected on the Australian mainland  in February 2020. State and federal biosecurity organisations have determined it to be unfeasible to eradicate this pest and it is now classified as an endemic pest.
FAW Q&A session (CQ Grower Solutions)
Online presentation and Q&A session organised by CQ Grower Solutions on 6 May 2020, featuring Melina Miles (DAF) and Brent Wilson (Nutrien Ag Solutions, Home Hill). Due to technical issues the initial audio of Brent's presentation has been re-recorded by Melina.
Download the Q&A summary (775kB pdf)
Identification
Many leaf-eating caterpillars share similar visual characteristics and damage symptoms. FAW larvae are most distinctive when fully grown; distinguishing younger larvae can be more difficult. It is important to not rely on a single characteristic when identifying larvae – a correct identification is more likely when multiple characteristics are considered.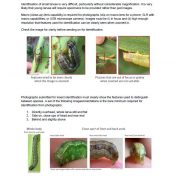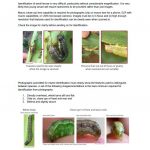 Where live insect collection is impractical, high quality photos, including close-ups are essential to provide the best chance of identifying the specimen. Download a Caterpillar identification: taking photos factsheet (600kB PDF).
Damage
How do FAW and other caterpillars eat holes in leaves without being seen? Take a look at our short video below on FAW shotgun damage in maize.

Distribution in Australia
Fall armyworm has been confirmed in Queensland at Bamaga, Croydon, South Johnstone, Tolga, Lakeland, the Burdekin, Bowen, Bundaberg and Emerald. It has also been detected in the Northern Territory and northern Western Australia.
Management
At this stage, management suggestions are based on overseas information since how FAW will manifest as a pest species under Australian conditions is currently unknown. More detailed information will be made available as we lean more about this pest, its behaviour and impacts under local cropping systems.
See our Beatsheet article Fall armyworm – should you be concerned? (5 March) for more details.
Other resources
Queensland's Department of Agriculture and Fisheries (DAF) has a range of crop-specific factsheets.
The GRDC has a Fall armyworm: a crop invader on the march page with identification information and links to other resources.
CottonInfo has a short video highlighting some of the similar characteristics between caterpillars and an Endemics to exotics factsheet that looks at some of the differences between armyworm species found in the tropics.