Fall armyworm (FAW, Spodoptera frugiperda) is an exotic pest that was first detected on the Australian mainland in February 2020. After state and federal biosecurity organisations determined eradication unfeasible, this pest it is now classified as endemic.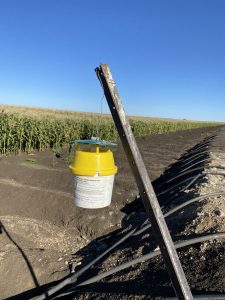 In response to this incursion, the Queensland Government has funded a network of pheromone traps to better understand the potential range of FAW in Queensland and how it might impact our cropping and grasslands systems. Initial FAW trapping was run by Biosecurity Queensland; once the pest had been deemed endemic, the field crops entomology team took over the program.
It is important to note that the primary function of pheromone traps is not to provide definitive counts, but to act as an 'early warning' for potential egg lays of FAW. In-crop sampling is required to accurately assess the presence of eggs and larvae.
Throughout winter, low levels of FAW moths were detected in the Richmond, Longreach, Emerald and Bundaberg traps, but no larval populations reported. However, large numbers of moths have been detected in Mackay as well as above threshold larval populations.
In addition to the trapping network, DAF staff will be conducting research to understand the pest status of this insect within our production systems with the aim of identifying and developing a range of sustainable practices (cultural, biological and chemical) to enable effective control.
Insecticide resistance has been a feature of FAW infestations with almost complete failure of all options in Brazil causing significant management issues. When managing FAW, consideration of both potential resistance issues in this pest, and how FAW management will impact on resistance development in Helicoverpa armigera and other species will be necessary.
Latest fall armyworm pheromone trap counts in Queensland. (Updated: 20/10/21) 
Numbers in the table are standardised counts for seven trap nights, calculated as (total moths caught/trap nights) x 7.
– trap not sampled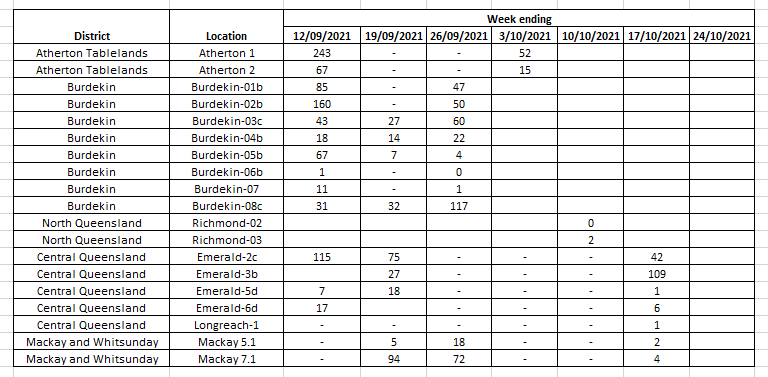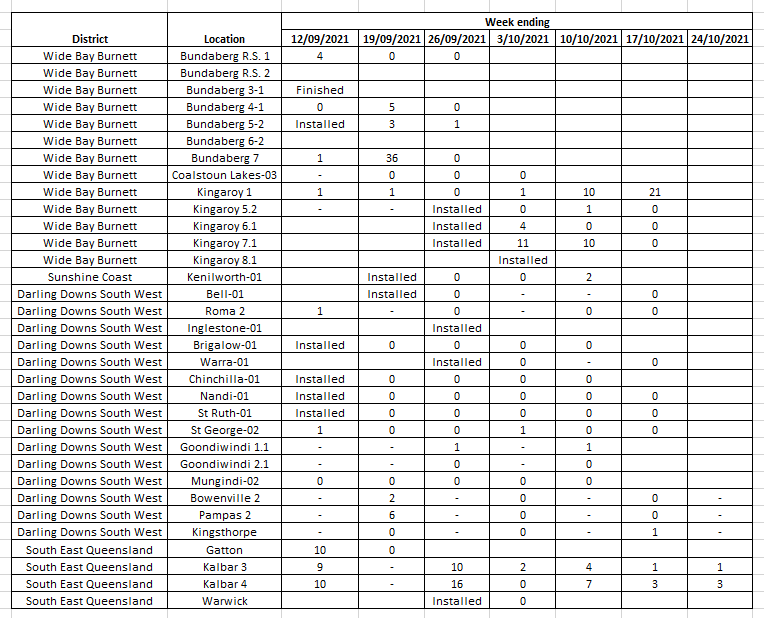 The QLD trapping network is funded by the Queensland Government and would not be possible without our network of trap operators.
Latest fall armyworm pheromone trap counts in NSW (supplied by NSW DPI & LLS)

Thank you to NSW DPI and LLS for supporting the NSW trapping network and funding diagnostics in NSW. For further information https://www.dpi.nsw.gov.au/biosecurity/plant/insect-pests-and-plant-diseases/fall-armyworm
More information is available on the FAW page