Implications for management in grains and pulses
The insecticide resistance monitoring program for Helicoverpa aims to measure resistance frequencies of field populations collected from Central Queensland through to the Riverina area of NSW. Field collections of Helicoverpa eggs are reared in the laboratory and larvae are tested with doses of insecticide that are known to kill susceptible insects. Survivors are considered to be resistant.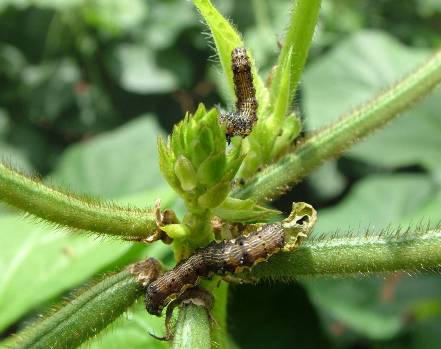 Results from the 2011-12 season show that Helicoverpa resistance to Indoxacarb remained consistently low. However there has been a significant increase in resistance to synthetic pyrethroids (SP) with SP's unlikely to give good results in control of Helicoverpa armigera.
The following report provides further details about resistance testing results as well as methods to combat resistance. With Helicoverpa a major pest of grain and pulse crops these results are as important for the grains industry as they are for cotton.
Insect Pressure and Sampling Distribution
Helicoverpa pressure during 2011/12 was generally light in all regions sampled. This combined with high rainfall and flooding events impacted egg collecting activities at some collection points, particularly the border regions of NSW and QLD.  Low Helicoverpa pressure in cotton in NSW lead to an increased reliance on samples from a range of alternative hosts including maize, sorghum, mung beans, pigeon pea, sunflower, soybean and a number of uncultivated weed hosts.  The majority of Helicoverpa sampled in Queensland was sourced from Bollgard II cotton.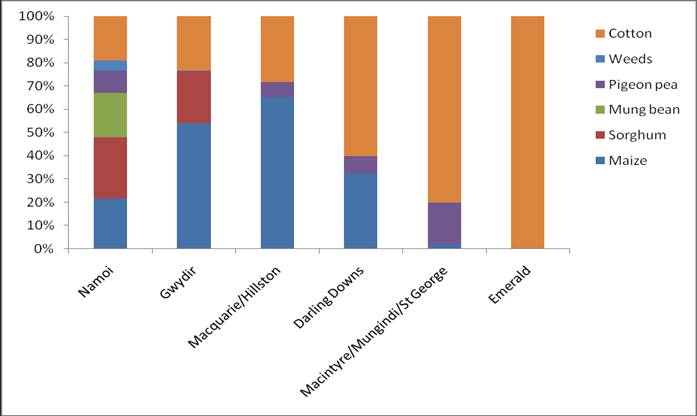 Species composition
Helicoverpa populations sourced from crops other than those known to be dominated by H. armigera (maize and sorghum) demonstrated a mixed species composition. An early peak of H. armigera activity was observed in chickpea crops in the Namoi Valley in October and November, with an average >80% H. armigera present in these spring populations.
Queensland populations were dominated by H. punctigera in November followed a general increase in species dominance by H. armigera. Sustained numbers of H. punctigera were also present in populations in NSW from November to January and into February in some areas.
Insecticide Resistance – Helicoverpa armigera
Indoxacarb (Steward®)
Resistance to indoxacarb remains consistently low across all regions (generally <1%) with very few survivors detected in 2011-12. Nevertheless, continued compliance with resistance management guidelines is essential for minimising resistance risk associated with the use of this product particularly if overall use increases. Screening for indoxacarb resistance will continue to be a priority within the resistance monitoring project for Helicoverpa. It is advisable that any spray failures associated with the use of indoxacarb are reported and that surviving larvae from suspected spray failures be screened for resistance (see below for procedure for collecting larvae form suspected spray failures).
Carbamate (methomyl)
Carbamate resistance has been present at moderate frequencies for over ten years, with typical frequencies of 20 – 30%. Results from 2011-12 show that resistance to carbamate remains at moderate and stable levels, with regional frequencies ranging from 24 to 44%.
Synthetic pyrethroid
Synthetic pyrethroid (SP) resistance is well established in Australian populations of H. armigera at variable but generally high frequencies. Monitoring has historically involved the use of fenvalerate and while not registered for use in Helicoverpa control, it provides a good indicator of general SP resistance. In the four seasons prior to 2011 – 12, SP resistance ranged from 40% to 70%. Results from this season show that general SP resistance has increased to 90% with data from individual collection points indicating a widespread pattern of very high level general SP resistance.
Resistance to the SP bifenthrin (Talstar®) also increased significantly for the first time since 2004. Resistance levels to bifenthrin ranged from 27% to 42% in NSW with resistance levels of up to 50% found in Queensland. However, the limited availability of insects from Queensland necessitates further testing to confirm this result.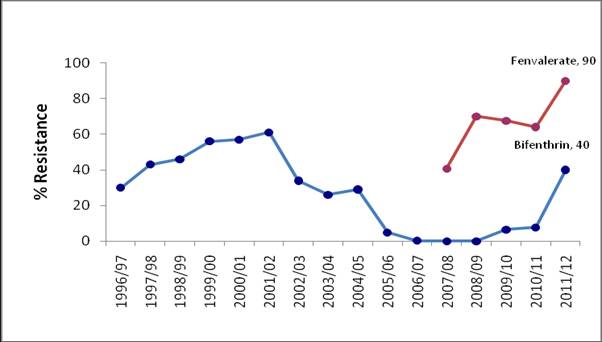 Despite the low numbers of insects tested, the available data may suggest a response to selection by SPs. Low usage patterns for pyrethroid in cotton are not sufficient to explain a 30% increase in resistance frequency.  A possible explanation relates to the prophylactic use of SPs in chickpea. Estimates of species composition in populations in chickpea crops in the spring of 2011 indicate species dominance of H. armigera and an opportunity for rapid selection of resistant genotypes by the application of SPs. Alternatively, the use of SPs for control of midge in sorghum may have inadvertently selected for resistance in non-target populations of H. armigera.
Insecticide Resistance – Helicoverpa punctigera
There are no conventional insecticide resistance issues in H. punctigera to chemistries relevant for this species including SPs and abamectin. Results from fenvalerate screening show very low resistance allele frequency with a single survivor recorded from the 1477 insects tested. Results for abamectin show no survivors from a total of 1764 insects tested.
Implications for management
General principles of resistance management should be followed to ensure that selection pressure applied by is minimised across multiple generations of Helicoverpa. This can be achieved by:
Avoiding repeated applications of products from the same group.
The use of chemical rotations even when targeting different pests.
Compliance with recommended maximum number of sprays.
Pyrethroid resistance increased significantly for the first time in many seasons to levels that will not give satisfactory results against H. armigera. However, H. punctigera remains fully susceptible to SPs and it is therefore important to consider species composition before applying SPs. Indications of the relative abundance of H. armigera and H. punctigera are:
The occurrence of spring migrations of H. punctigera detected by local pheromone trapping networks.
The timing of spring emergence of H. armigera from diapause.
Any management tactic that minimises the survival of resistant individuals will be effective in delaying the evolution of resistance. An effective non-chemical method for reducing the carryover of resistant insects from season to the next is by cultivation in pulse and grain crops that have been sprayed as a result of experiencing Helicoverpa pressure and therefore pose a risk of producing a generation of insects that carry a high frequency of resistance alleles. Growers should consider 'pupae busting' as a priority post-harvest operation for fields that may potentially harbour insecticide resistance Helicoverpa pupae.
Procedures for collecting and transporting survivors from suspected spray failures
Collect as many larvae as possible from the affected field—the more the better.
Place larvae in a 6-pack esky with leaves of any host, ensuring larvae are not overcrowded.
Within 24 hours of collection, post to Australian Cotton Research Institute, 21888 Kamilaroi Highway,   Narrabri NSW 2390.
Contact Lisa Bird by email (

[email protected]

) or phone (02 67992428) with details of collection.
Article by Lisa Bird, NSW Dept. Primary Industries