Armyworm in barley and wheat.
A num­ber of reports of army­worm in crops have been received over the past cou­ple of weeks. Num­bers range from 30 to 50 per square metre (extreme) to a more typ­i­cal 5 to10 lar­vae per square metre.
Assess­ing lar­val den­si­ty is done using a sweep net, buck­et or beat­ing a sec­tion of row into a tray or onto a beat­sheet. It is impor­tant to check along the row at the base of the plants for lar­vae shel­ter­ing in the soil and stub­ble. Army­worm are active at night, and tend to shel­ter on the ground dur­ing the day. At high­er den­si­ties they may be active dur­ing the day.
Army­worms are renowned for their dam­age poten­tial as a result of head lop­ping in crops that are dry­ing down.
Less is known about the impact of army­worm in crops that are still green, with plen­ty of leaf in the canopy, and ear­ly stages of head emer­gence and grain fill (Z50 to Z 80).
Con­sid­er­a­tions in mak­ing deci­sions about the need for, and tim­ing of, con­trol:
Crop stage and con­di­tion. Army­worm will feed on green leaf mate­r­i­al if it is avail­able. Crops that are dry­ing down, or where leaves have dried ear­ly because of dis­ease or her­bi­cide dam­age are more like­ly to suf­fer defo­li­a­tion of the upper leaves which con­tribute to yield. Typ­i­cal­ly, head lop­ping occurs when lar­vae feed on the last bit of green mate­r­i­al in a plant that is dry­ing off, the stem nodes, result­ing in heads being sev­ered. Hav­ing said all that, army­worm behav­iour can be very errat­ic, and more or less dam­age than expect­ed occur for rea­sons we don't under­stand.
Size of the lar­vae in the crop. Like most cater­pil­lar species, about 80% of the feed­ing is done in the last instar (large lar­vae) over a peri­od of 3 to 7 days at cur­rent tem­per­a­tures. Army­worm will be most dam­ag­ing when large lar­vae feed on the upper leaves (flag, flag 1, flag 2 etc) or are present when the crop is dry­ing down and most vul­ner­a­ble to head lop­ping.
The tables below are a guide to the rate of devel­op­ment of army­worm over the next few weeks (for giv­en tem­per­a­ture range) for Dub­bo and Dalby/Moree regions. Because Dub­bo is cool­er than Moree or Dal­by, the devel­op­ment is slow­er in Dub­bo.
Using the tables: For exam­ple, a medi­um (M) lar­va observed near Moree on 7 Sep­tem­ber would reach large (L) around 20 Sep­tem­ber, and then pupate around 29 Sep­tem­ber.
Con­trol­ling infes­ta­tions. Army­worm have a range of preda­tors and par­a­sitoids. The par­a­sitoids (flies and wasps) tend to build up in num­ber as the sea­son pro­gress­es, and may sup­press the pop­u­la­tion and make the dif­fer­ence between a dam­ag­ing pop­u­la­tion and a sub­thresh­old one. In terms of chem­i­cal con­trol to pre­vent crop loss, syn­thet­ic pyrethroids are high­ly effec­tive. For max­i­mum effi­ca­cy, con­sid­er apply­ing late in the day to max­imise con­tact between the insec­ti­cide and the lar­vae emerg­ing to feed in the canopy at night.
Thresh­olds to pre­vent head lop­ping. It is esti­mat­ed that one large army­worm lar­va can lop up to 7 heads per day (army­worms are active most­ly at night). At one lar­va per square metre, that equates to around 70 kg/ha of lost grain per day. A dam­ag­ing lar­va may be active for 5 or more days before pupat­ing, giv­ing a con­ser­v­a­tive poten­tial yield loss of 350 kg/ha.
Use the ready reck­on­er below to iden­ti­fy the appro­pri­ate eco­nom­ic thresh­old for your sit­u­a­tion. The cost of con­trol includes appli­ca­tion. The thresh­old is expressed in terms of the num­ber of lar­vae per square metre.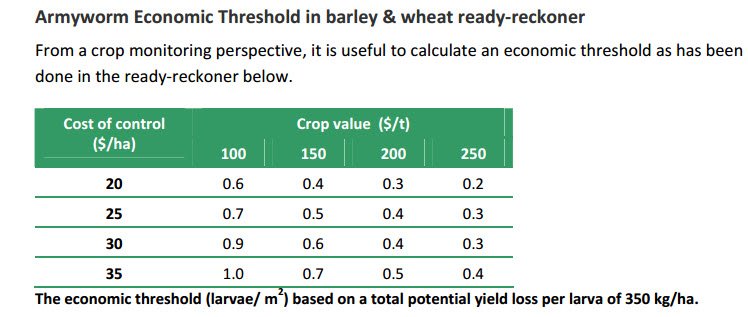 Aphids
As the weath­er warms up aphid pop­u­la­tions are becom­ing more obvi­ous in crops. Corn aphid (Rhopalosi­phum maid­is) tends to decline in num­ber as the head emerges, but the oat aphid (R. padi) will per­sist around the base of plants and up the stems onto low­er leaves for longer. As tem­per­a­tures warm up, the activ­i­ty of nat­ur­al ene­mies (par­a­sitoid wasps and preda­tors) also increased rapid­ly. With the warmer than aver­age tem­per­a­tures we have, and con­tin­ue to expe­ri­ence over much of the north­ern region, nat­ur­al ene­my activ­i­ty is high and the impact on aphid pop­u­la­tions is sig­nif­i­cant. Look par­tic­u­lar­ly for aphid mum­mies (evi­dence of active par­a­sitoid wasps), hov­er­fly lar­vae in aphid colonies (look like small mag­gots) and lady­bee­tle lar­vae and adults.
There are no eco­nom­ic thresh­olds (that take into account costs of con­trol and crop val­ue) for the con­trol of aphids. As a guide, the North­ern Grow­er Alliance tri­al results sug­gest an increas­ing pop­u­la­tion of more than 10 to 15 aphids per tiller from tiller­ing to head emer­gence with no sign of ben­e­fi­cial insects may war­rant the appli­ca­tion of a foliar insec­ti­cide.
For more infor­ma­tion about aphids refer to the pre­vi­ous post­ing on Mak­ing a deci­sion about con­trol of aphids in win­ter cere­als.
Blue oat mite persisting in winter cereals – cause for concern?
Blue oat mite (BOM) is a pest of seedling win­ter cere­als in the cool­er grain grow­ing regions, up as far as Goondi­win­di. How­ev­er, this year large num­bers of BOM are being observed in wheat and bar­ley crops through August, which is unusu­al. The ques­tion being asked is whether the mites are like­ly to cause crop dam­age that will impact on grain fill.
BOM in advanced cere­al crops is not an unusu­al occur­rence in south­ern Aus­tralia where treat­ing these infes­ta­tions is rare. BOM is rel­a­tive­ly tol­er­ant of warm con­di­tions and will per­sist in crops through until close to har­vest as can be seen in the table below which pic­tures the mite species and their peri­ods of activ­i­ty in the crops (table cour­tesy of Paul Umi­na, cesar).
Con­trol may be war­rant­ed if the upper leaves (flag, flag-1) etc are being dam­aged (sil­ver­ing and reduc­tion in pho­to­syn­thet­ic area) by the mites. Be aware that apply­ing a broad­spec­trum insec­ti­cide to con­trol mites at this late stage may flare aphids and/or army­worm by remov­ing nat­ur­al ene­my pop­u­la­tions that may be sup­press­ing these pests.
The table includes anoth­er mite species that is worth being aware off too, the Bry­obia mite. Bry­obia mites include the clover mite and the brown wheat mite, and are dis­tin­guish­able from oth­er mite species in win­ter cere­als by their elon­gate front legs. They cause sil­ver­ing of the leaves, like BOM, but on close inspec­tion the dam­age is a char­ac­ter­is­tic series of small 'dots'.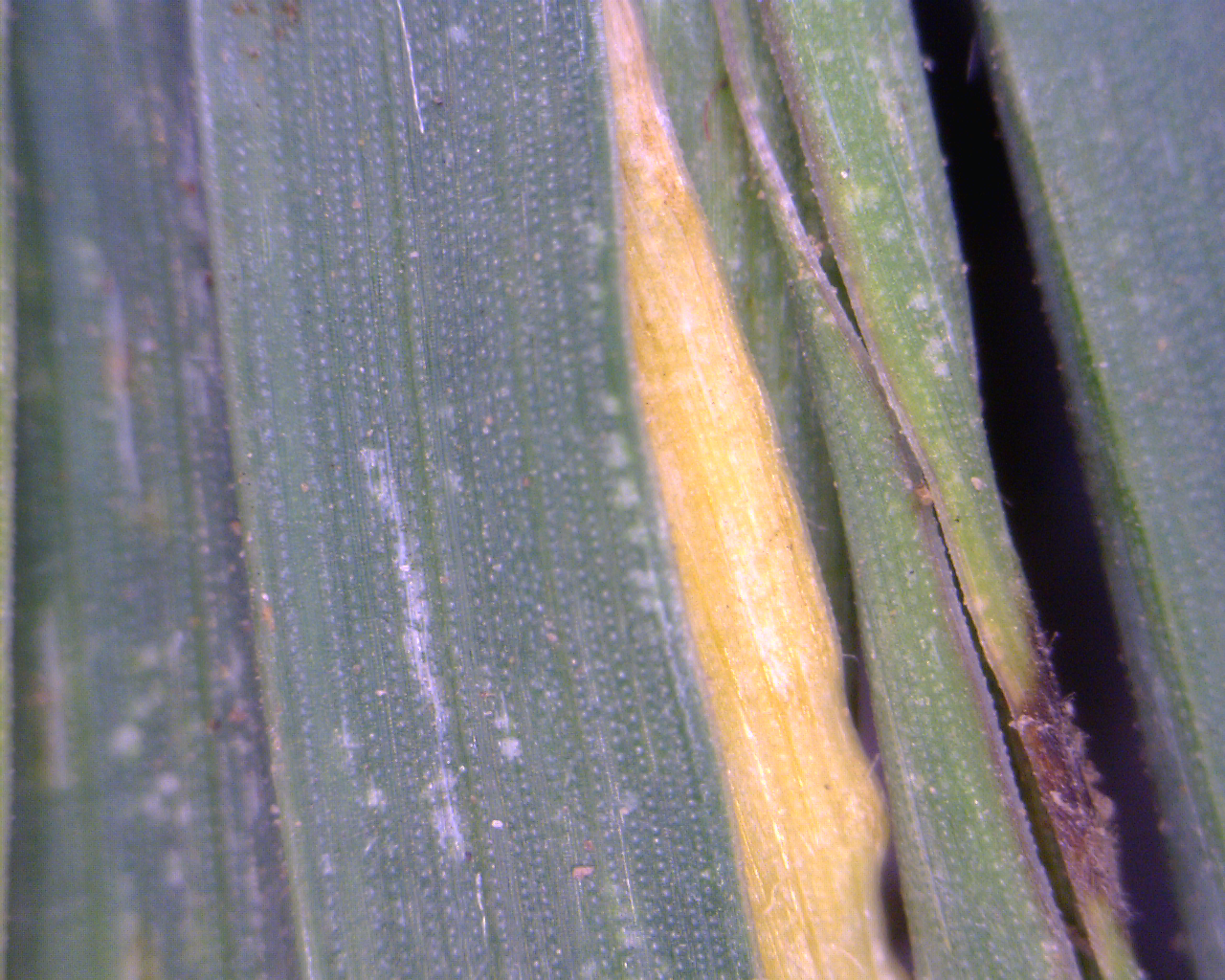 Why men­tion Bry­obia? Because the clover mite (Bry­obia prae­tiosa) is nat­u­ral­ly tol­er­ant of syn­thet­ic pyrethroids which are gen­er­al­ly used for BOM con­trol. We have heard of at least one instance this sea­son where a mixed pop­u­la­tion of BOM and Bry­obia was sprayed with an SP, result­ing in good con­trol of BOM but ongo­ing leaf dam­age because the Bry­obia were not con­trolled. A sec­ond appli­ca­tion of an OP was effec­tive in con­trol­ling the Bry­obia.
More infor­ma­tion on Bry­obia can be found by fol­low­ing these links: