Biose­cu­ri­ty Queens­land has con­firmed an out­break of an exot­ic species of mealy­bug cur­rent­ly affect­ing cot­ton prop­er­ties in Emer­ald is also present in cot­ton crops in the Bur­dekin region.
The exot­ic species of mealy bug is com­mon­ly known as the Solenop­sis mealy­bug (Phenacoc­cus solenop­sis).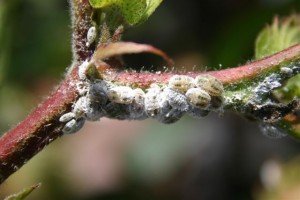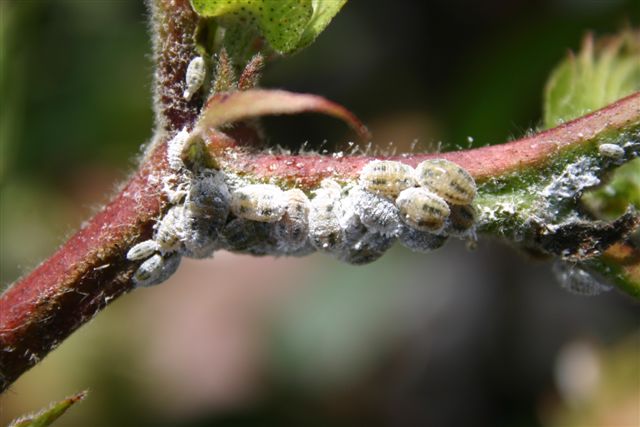 The Solenop­sis mealy­bug is a native of North Amer­i­ca – first col­lect­ed and described in New Mex­i­co in 1897. In 1990, it was report­ed as a pest of cot­ton in Texas. From there it moved into Cen­tral and South Amer­i­ca, and is now known to occur in Ghana, Nige­ria, Israel, Pak­istan, India, Indone­sia, Thai­land and Chi­na.
The Solenop­sis mealy­bug is a polyphagous pest which means that it feeds and repro­duces on a wide range of plants. In Pak­istan it has been record­ed on 154 plant species includ­ing field crops, veg­eta­bles, orna­men­tals, weeds, and trees.
Oth­er key rea­sons for the fast spread and dif­fi­cul­ty to con­trol this pest include:
• The bugs pos­sess a waxy coat­ing that pro­tects them from insec­ti­cides and nat­ur­al mor­tal­i­ty fac­tors
• They have a high repro­duc­tive rate
• They have the abil­i­ty to hide in soil cracks and crevices.
• They are spread through nat­ur­al car­ri­ers such as raw cot­ton seeds, wind, water, rain, birds, humans, farm equip­ment and ani­mals.
Iden­ti­fi­ca­tion and life­cy­cle of the Solenop­sis mealy­bug
The female mealy­bug is wing­less with a 3–4 mm long oval shaped body which is cov­ered with white hydropho­bic (water repel­lent) mealy wax. There are dark bare spots on the tho­rax and abdomen, which appear as dark lon­gi­tu­di­nal lines.
The adult male is about 1 mm long, with a grey body and a sin­gle pair of trans­par­ent wings. Two fil­a­ments of white wax project from the end of its abdomen. The adult male has no feed­ing mouth­parts and caus­es no dam­age.
Mature females lay eggs in waxy pouch­es called ovisacs. Each ovisac con­tains between 150- 600 eggs, the major­i­ty of which are female. The eggs hatch after three to nine days into nymphs called 'crawlers', which are very mobile.
No partheno­gen­e­sis (asex­u­al repro­duc­tion) is report­ed in the lit­er­a­ture and there­fore it is assumed that the species repro­duces through sex­u­al repro­duc­tion.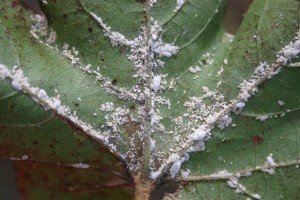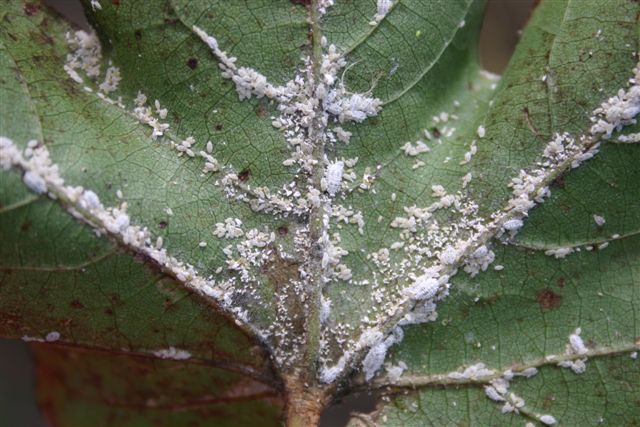 The female crawler under­goes four lar­val instars before turn­ing into an adult (there is no pupal stage). The total life span of a female mealy­bug is 30–48 days, which includes 21 days as adult.
Male crawlers under­go three lar­val instars over 13–17 days before spin­ning a cot­tony cocoon in which it pass­es a pupal stage for 6–8 days. A male adult lives for only 3–5 days. Mealy­bugs can have 12–15 gen­er­a­tions in a year.
The species (as eggs in ovisacs or in oth­er life stages) can sur­vive cold con­di­tions, both on the host plant and in the soil. In warm cli­mates, mealy­bugs repro­duce all year round.
Mode of dam­age
Mealy­bugs have suck­ing mouth parts at all stages of their life cycle, which they use to extract large amounts of plant sap. Dur­ing the feed­ing process a sig­nif­i­cant amount of sap oozes out as hon­ey­dew which forms a sticky deposit on the leaves and stem. Hon­ey­dew pro­motes the growth of sooty mould fun­gi which inhib­it pho­to­syn­the­sis.
Symp­toms of plants infest­ed dur­ing the veg­e­ta­tive phase include:
• Dis­tort­ed and bushy shoots
• Crin­kled and/or twist­ed and bunchy leaves
• Stunt­ed plants that dry com­plete­ly in severe cas­es.
Symp­toms of late sea­son infes­ta­tions dur­ing the repro­duc­tive crop stage include:
• Few­er, small­er and deformed bolls
• Reduced plant vigour
• Ear­ly crop senes­cence.
Mealy­bugs can also stain cot­ton lint and reduce qual­i­ty hence this pest has the abil­i­ty to cause dam­age to both the qual­i­ty and quan­ti­ty of cot­ton.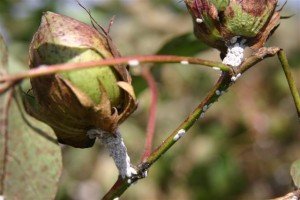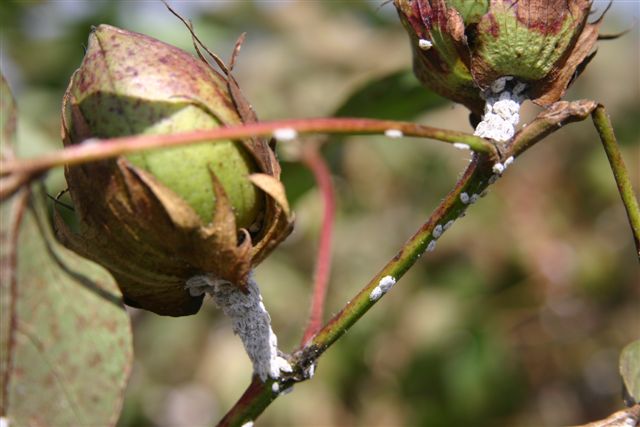 Meth­ods of spread
Mealy­bugs are gen­er­al­ly dis­sem­i­nat­ed as crawlers. The crawlers can move from an infect­ed to a healthy plant as well as infect­ed field to adja­cent healthy fields. While this type of move­ment is localised, bugs have the means to trav­el long dis­tances and infest new areas. The waxy coat­ing on the mealy­bug crawlers facil­i­tates pas­sive trans­port of the insect by stick­ing onto equip­ment, oth­er insects (e.g. bees), birds, ani­mals or peo­ple. Small crawlers are also read­i­ly trans­port­ed by wind and rain or in water in irri­ga­tion chan­nels. Long-dis­tance move­ment through the trans­port of infest­ed plants is also pos­si­ble.
Ants are also a sig­nif­i­cant fac­tor in the spread of mealy­bugs. In return for pro­vid­ing the hon­ey dew that the ants feed on, they spread the mealy­bugs, pro­tect them from nat­ur­al ene­mies and keep their colonies clean.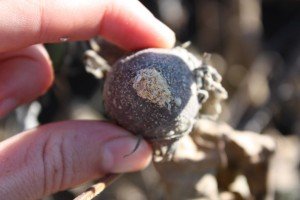 Clus­ters of tiny crawlers — ready for dis­per­sal (image by Zara Ludgate)
Man­age­ment of mealy­bugs
There are no insec­ti­cides reg­is­tered for the con­trol of mealy­bugs in cot­ton. How­ev­er there are a num­ber of man­age­ment options that can reduce infes­ta­tions and the over­all impact of this pest.
• Mealy­bugs mul­ti­ply on dif­fer­ent hosts and may ini­tial­ly breed on weeds before migrat­ing to cot­ton crops
• Weeds in and around fields should be removed.
• Do not throw uproot­ed weeds into water chan­nels.
• The removal of affect­ed plants at the ear­ly stage of infes­ta­tion may reduce mealy­bug num­bers in the rest of the crop.
• Avoid phys­i­cal con­tact with infest­ed plants as mealy­bugs eas­i­ly adhere to cloth­ing and imple­ments.
• Prac­tice good farm hygiene and clean all equip­ment that has been in affect­ed fields.
• Con­sid­er the insec­ti­cides that are used in con­trol of oth­er insect pests to con­serve nat­ur­al ene­mies of mealy­bugs.
Tri­als in Pak­istan and India show some promis­ing results in terms of suit­able insec­ti­cides. Insec­ti­cide tri­al work to con­trol mealy­bug will com­mence in Queens­land in the near future.
The main pri­or­i­ty at this point is to try and lim­it fur­ther spread of the mealy­bug from and with­in the Emer­ald and Bur­dekin areas. With har­vest­ing of crops to com­mence soon in the Emer­ald area, the Queens­land Gov­ern­ment is work­ing close­ly with the cot­ton indus­try to devel­op wash-down and decon­t­a­m­i­na­tion pro­to­cols for har­vest­ing machin­ery. More infor­ma­tion about these pro­to­cols will be pro­vid­ed in a blog next week.
Bio­log­i­cal con­trol
A sur­vey in Pak­istan record­ed as many as nine species of preda­tors feed­ing on Solenop­sis mealy­bugs. These preda­tors were present through­out the cot­ton sea­son but their effec­tive­ness was not suf­fi­cient to keep mealy­bugs under con­trol.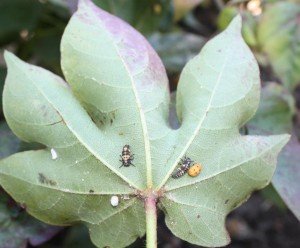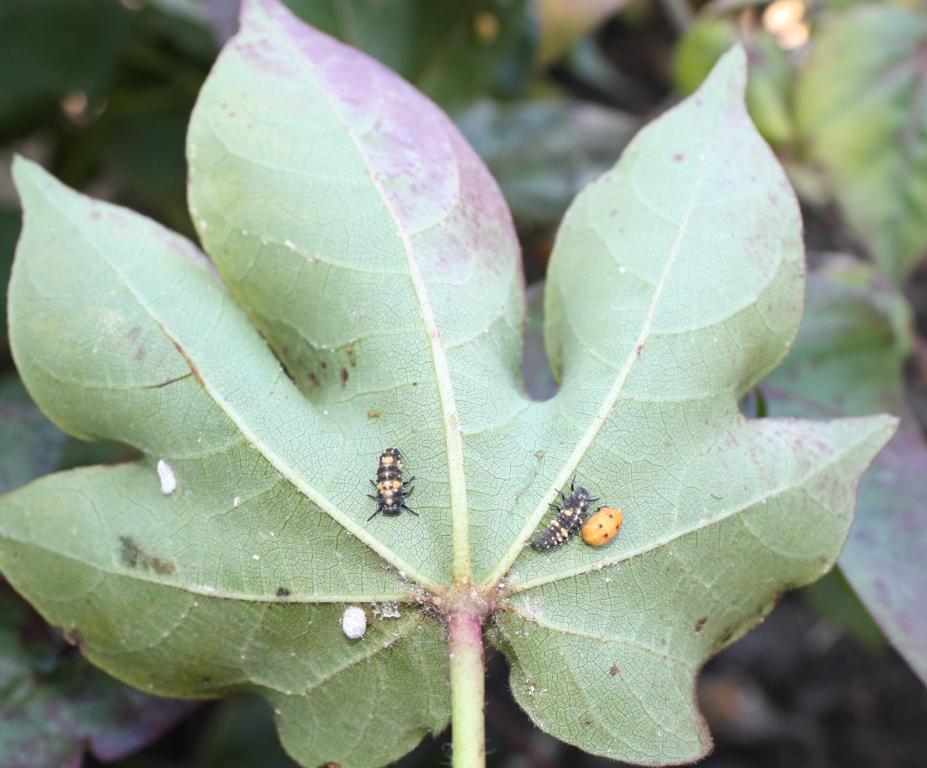 In Aus­tralia, lady­bird bee­tles and their lar­vae, and green lacewing lar­vae were abun­dant in mealy­bug-infest­ed fields. One of the most con­spic­u­ous preda­tors is the mealy­bug lady­bird (Cryp­to­lae­mus mon­trouzieri), whose lar­vae look like an over­size mealy­bug. To date no Solenop­sis mealy­bug par­a­sitoids have been record­ed in Aus­tralia
Mean­while in India, a small wasp (Aena­sius bam­bawalei) is report­ed to par­a­sitise about 60 per­cent of the mealy­bug pop­u­la­tion under field con­di­tions.
Arti­cle by Kate Charleston and David Mur­ray. Images by Zara Ludgate and Greg Kauter.