As the cot­ton sea­son gets under­way aphids are start­ing to be detect­ed in crops, on ratoons, vol­un­teers and weeds. Last sea­son, there were some regions where Cot­ton Bunchy Top (CBT) was detect­ed in crops towards the end of the sea­son. To assess and man­age the risk of yield loss caused by CBT, and min­imise the dif­fi­cul­ties of con­trol­ling insec­ti­cide resis­tant cot­ton aphids it is impor­tant to i) be able to cor­rect­ly iden­ti­fy aphids in the crops and ii) con­sid­er how ear­ly sea­son infes­ta­tions (in crop and on near­by weeds) will be man­aged. <–more–!> There is a lot already writ­ten about aphids and aphid man­age­ment in cot­ton. Fol­low the link to the Cot­ton CRC web­site to read more about aphid biol­o­gy and ecol­o­gy, alter­na­tive hosts, and strate­gies to man­age (includ­ing man­ag­ing insec­ti­cide resis­tance). http://www.cottoncrc.org.au/industry/Publications/Pests_and_Beneficials/Aphids__Bunchytop Iden­ti­fy­ing aphids in cot­ton There are a num­ber of species of aphid that will estab­lish in cot­ton, Cot­ton Aphid, Cow­pea Aphid and Green peach aphid are the most com­mon. Cow­pea and green peach aphid will colonise cot­ton, but tend only to per­sist in cool­er con­di­tions. Cow­pea aphids were present in cot­ton crops in Emer­ald in ear­ly Novem­ber this year, but num­bers have since declined. We have received sam­ples of cow­pea aphid and cot­ton aphid from cot­ton on the Downs this sea­son. Key fea­tures used in the iden­ti­fi­ca­tion of aphids are illus­trat­ed below. Use a x10 hand lens to exam­ine the aphid to see the tuber­cles, and cau­da fea­tures.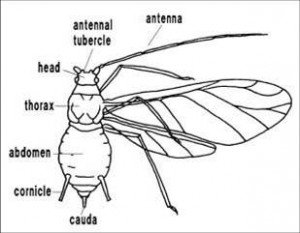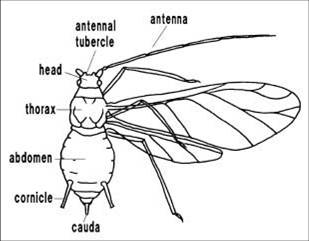 Illus­tra­tion from aphid iden­ti­fi­ca­tion key: http://ipm.ucdavis.edu/TOOLS/KEYAPHID/typical.html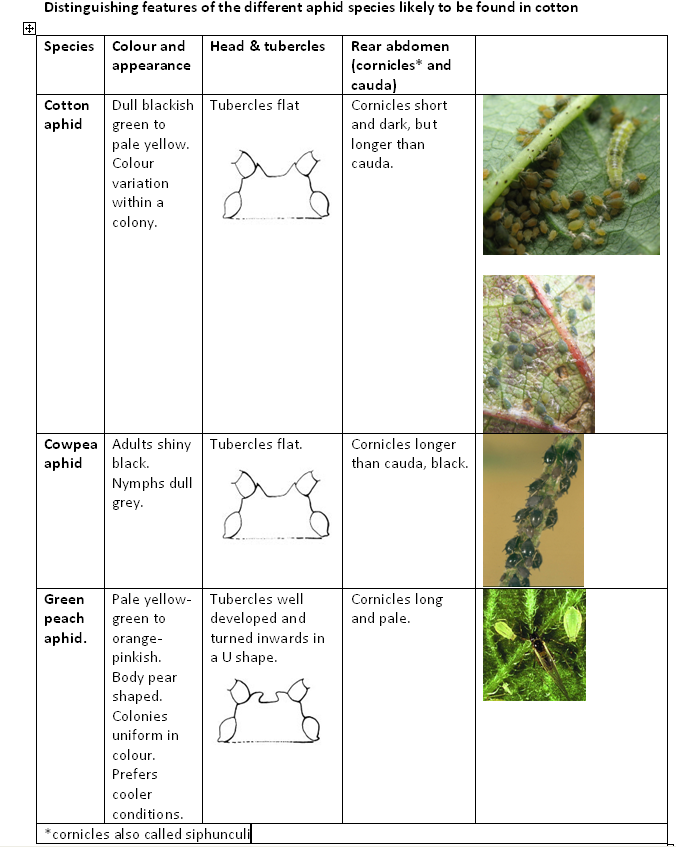 Aphid impact on cot­ton Aphids have the poten­tial to reduce yield by direct feed­ing and exude hon­ey­dew, result­ing in sticky cot­ton. Ear­ly sea­son infes­ta­tions may result in CBT trans­mis­sion, and sub­se­quent yield loss caused by CBT. Research to date (Lewis Wil­son et al.), has only detect­ed CBT trans­mis­sion by Cot­ton Aphid, although it is pos­si­ble that oth­er species may trans­mit at very low lev­els. Decid­ing if aphids need con­trol Here I will cov­er some basic points to con­sid­er when mon­i­tor­ing for aphids, and in mak­ing an assess­ment of the need for, or tim­ing of aphid con­trol.
Iden­ti­fy the aphids
Make an assess­ment of the lev­el of infes­ta­tion — % of plants with aphids. Look for aphids towards the top of the plant, at 3–4 nodes down from the ter­mi­nal, under leaves.
Mark, or record, infes­ta­tions and revis­it to deter­mine if the pop­u­la­tion is spread­ing, increas­ing in size, and whether there is ben­e­fi­cial insect activ­i­ty.
If the infes­ta­tion is spread­ing – this is the point at which to make a deci­sion about con­trol.
Don't wait until pop­u­la­tions are out of con­trol (>30% infes­ta­tion) to act.
Sup­pres­sion of pop­u­la­tions for exam­ple with a spray oil, may be suf­fi­cient to min­imise the risk of spread and in sit­u­a­tions where there is a high risk of

CBT

trans­mis­sion.
Large influx­es or rapid­ly spread­ing infes­ta­tions may war­rant the appli­ca­tion of pir­im­i­carb.
Ear­ly sea­son spray deci­sions should take into con­sid­er­a­tion the poten­tial dis­rup­tion to ben­e­fi­cials that con­tribute to the sub­se­quent con­trol of aphids,

SLW

and mealy­bug.
CBT and aphid infes­ta­tions
Crops at high risk of

CBT

are those close to reser­voirs of

CBT

and aphids (weeds, par­tic­u­lar­ly mal­vaceae species; ratoons).
Ear­ly infec­tion will result in more severe symp­toms.
How­ev­er, do not start spray­ing aphids at first appear­ance in the crop. Large influx­es of cot­ton aphid from

CBT

reser­voirs rep­re­sent a larg­er risk, in terms of

CBT

trans­mis­sion, than a slow influx over a longer peri­od of time.

CBT

symp­toms will not appear in the crop for up to 8 weeks after trans­mis­sion – don't act on symp­toms.
Arti­cle by Meli­na Miles