Dr Paul Grundy has joined the Field Crops Entomology team in Toowoomba as Senior Entomologist. Paul has moved to Toowoomba from Ayr where he was involved in evaluating the viability of cotton production in the Burdekin.
Prior to his time in the Burdekin, Paul was based in Biloela. During his 7 years in Central Queensland, Paul was involved in research related to the evaluation of biopesticides; trap cropping, natural enemy research and the evaluation of Magnet® (moth attractant) as a resistance management tool for Helicoverpa in Bollgard II cotton. Whilst in CQ, Paul was also involved in research to develop the economic thresholds for Helicoverpa in chickpea, in conjunction with Melina Miles.
During the Silverleaf Whitefly outbreak in Central Queensland, Paul worked with Richard Sequeira and Dave Kelly to support the cotton industry in developing and implementing management strategies. Consultants on the Downs may be familiar with Paul from his visits to the Downs during the SLW outbreak in 2006/07, providing advice on appropriate management tactics.
As part of the Entomology team, Paul has responsibility for R, D and E for both cotton and grains. He brings expertise in cotton production, insect pest management in cotton, biological control (his PhD focussed on the rearing and use of assassin bugs in IPM) and general field crops entomology.
Contact Paul at DEEDI in Toowoomba on:  4688 1533, 0428 929172 or  [email protected]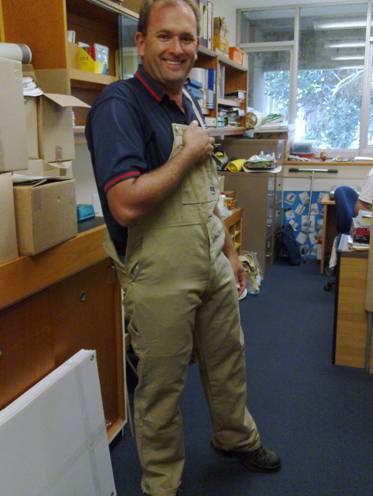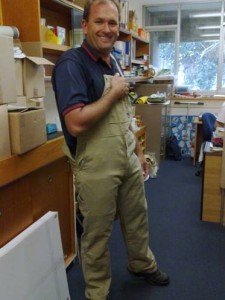 Paul finds Dave Murray's overalls are big ones to fill