We have received numer­ous enquiries about white­fly in the last week espe­cial­ly from the Mac­In­trye and Low­er Namoi areas. Short­ages of chem­i­cals to con­trol white­fly is cur­rent­ly of major con­cern to many grow­ers and con­sul­tants in this region. Many enquiries also relate to species iden­ti­fi­ca­tion.
White­fly sam­ples iden­ti­fied from the Mac­In­tyre and Low­er Namoi areas have been 100% B bio­type (SLW). Par­a­sitism lev­els record­ed from this area are low at this stage (between 0–10% par­a­sitism).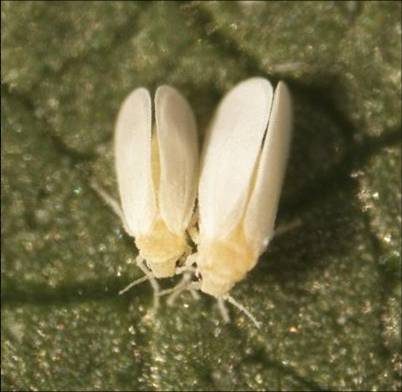 Fig­ure 1. B bio­type, Bemisia tabaci (Pho­to: R. Lloyd)
White­fly num­bers are build­ing quick­ly with infes­ta­tion lev­els ris­ing rapid­ly from well below thresh­old to thresh­old lev­els. Rain­fall in the next week may assist in reduc­ing pop­u­la­tion build up by dis­lodg­ing eggs and nymphs from leaves and slow­ing devel­op­ment dur­ing cool­er weath­er.
White­fly infes­ta­tions have put addi­tion­al pres­sure on sup­ply of reg­is­tered insec­ti­cides. No new sup­plies of white­fly insec­ti­cides will be avail­able until the week of 8 Feb­ru­ary 2010. Admi­ral® will be avail­able on the 8 Feb­ru­ary and Pega­sus® will be avail­able lat­er in Feb­ru­ary.
So what is the man­age­ment strat­e­gy giv­en the chem­i­cal short­age?
For ear­ly plant­ed cot­ton, there will be no Pega­sus® avail­able in time to ben­e­fit these crops. There­fore, whether infes­ta­tion lev­els are in the 'sup­pres­sion' zone in the thresh­old matrix or the 'IGR' zone (see fig. 2) becomes irrel­e­vant because the only option will be an Admi­ral® appli­ca­tion.
Do not use Admi­ral® too ear­ly. One well-timed appli­ca­tion of Admi­ral® will take the crop through to har­vest. Going too ear­ly risks hav­ing to come in with anoth­er spray. Only one appli­ca­tion of Admi­ral® is allowed per sea­son under the IRMS.
For grow­ers who already have open cot­ton and are above thresh­old, the options are:
1) Apply Admi­ral® as soon as it becomes avail­able
2) Apply a knock­down now and fol­low up with Admi­ral® as soon as it becomes avail­able
Pro­vid­ed white­fly infes­ta­tion lev­els are not too high, delay­ing treat­ment up to 10% open cot­ton should not result in dam­age from white­fly. Giv­en the weath­er fore­cast for rain and cool­er weath­er in the next few days, con­sid­er wait­ing for Admi­ral® to become avail­able. This will put you into the 3C zone, 'IGR + knock­down', eg Admi­ral® + Tal­star® + PBO.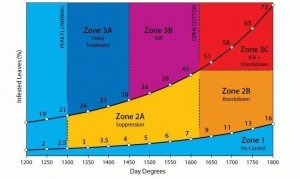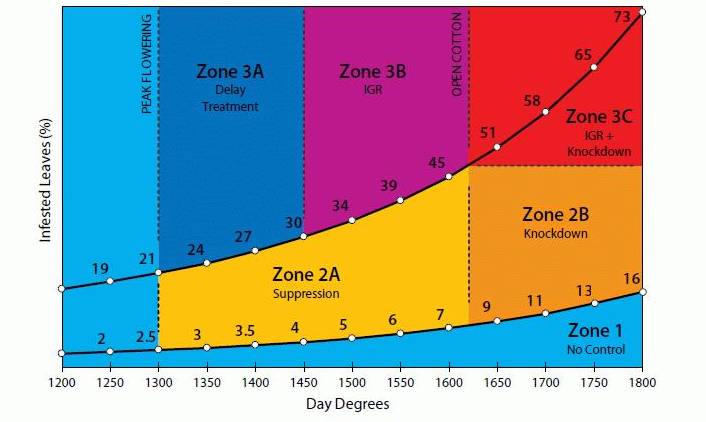 Fig­ure. 2. Thresh­old Matrix for white­fly man­age­ment in cot­ton
In a sit­u­a­tion where hot weath­er is pre­dict­ed and where cot­ton fields are look­ing vis­i­bly 'sticky', then a knock­down spray fol­lowed by Admi­ral® is sug­gest­ed. How­ev­er, a knock­down appli­ca­tion will only give around 3 days of relief and will destroy any nat­ur­al ene­mies that are work­ing for you.
For lat­er plant­ed cot­ton, Pega­sus® may be avail­able for use against mod­er­ate infes­ta­tions. How­ev­er, as ear­ly cot­ton is defo­li­at­ed, late cot­ton may be sub­ject to mass migra­tion of white­fly from ear­ly cot­ton fields and so Admi­ral® may again be the best option for con­trol.
White­fly lev­els in oth­er regions
Emer­ald - white­fly were gen­er­al­ly at mod­er­ate lev­els and were man­aged with a Pega­sus® appli­ca­tion that also tar­get­ed mite and aphid infes­ta­tions. Par­a­sitism lev­els were high rang­ing between 45–90% for this area.
St George — white­fly are build­ing up with par­a­sitism lev­els gen­er­al­ly around the 35% lev­el at this stage.
Dar­ling Downs — there are reports of B bio­type build­ing up in the west as well as high pop­u­la­tions of Green­house white­fly in the Brook­stead area. Green­house white­fly do not cause sticky cot­ton so always check the iden­ti­ty of the white­fly as part of your man­age­ment strat­e­gy.
Fur­ther Ref­er­ences
The white­fly thresh­old matrix and all the infor­ma­tion for sam­pling can be found on the cot­ton CRC web­site under 'Man­ag­ing sil­ver­leaf white­fly':
http://www.cottoncrc.org.au/content/Industry/Publications/PestsandBeneficials/Whitefly.aspx