On the Dar­ling Downs there have been a num­ber of reports of com­mon army­worm caus­ing sig­nif­i­cant defo­li­a­tion in sorghum, corn and mil­let. Jim­bour grower John Alexan­der treated a severely defo­li­ated sorghum two weeks ago. Mil­let in the same area and corn have also been affected. Although patchy, the out­breaks have the poten­tial to cause sig­nif­i­cant yield loss if the army­worm defo­li­ate before the crop has reached phys­i­o­log­i­cal maturity
At this time of year, high num­bers of com­mon army­worm can defo­li­ate seedling crops, sum­mer crops that are still green as well as pas­ture. This is the same species of army­worm that causes dam­age to win­ter cere­als in spring. The high num­bers now may be a car­ry­over from the out­break in north­ern NSW last spring.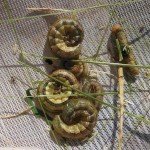 Com­mon army­worm lar­vae look sim­i­lar to Heli­cov­erpa lar­vae. Cor­rect iden­ti­fi­ca­tion is impor­tant because army­worm can­not be con­trolled with NPV, and heli­cov­erpa have resis­tance to syn­thetic pyrethroids (the two most com­monly used con­trol options for these species). For iden­ti­fi­ca­tion of com­mon army­worm refer to a pre­vi­ous beat sheet post­ing http://thebeatsheet.com.au/armyworm/avenge-of-the-caterpillars%e2%80%a6/
Con­trol considerations
Size of the lar­vae. Eighty per­cent of feed­ing is done by medium– large lar­vae. If the army­worms are longer than 30-35mm, they have com­pleted most of their feed­ing and the dam­age is already done. Treat­ing at this stage may be of lit­tle ben­e­fit. To be effec­tive, pop­u­la­tions need to be detected and con­trolled before large lar­vae have caused sig­nif­i­cant defoliation.
Thresh­old? Spe­cific thresh­olds have not been estab­lished for defo­li­at­ing army­worm in sorghum or corn in Aus­tralia. US data sug­gests con­trol­ling army­worm when crops have more than 50% defoliation.
Tim­ing of con­trol. Small lar­vae may feed dur­ing the day, but large army¬worm feed at night and shel­ter on the ground under stub­ble and soil dur­ing the day. Apply­ing a treat­ment later in the day max­i­mizes the like­li­hood of con­tact­ing large, dam­ag­ing lar­vae as they climb the plants to feed. Con­trol options can be found on http://services.apvma.gov.au/PubcrisWebClient/welcome.do
Good cov­er­age is required to get con­tact with the cater­pil­lars, par­tic­u­larly in crops with thick canopies.
If treat­ing pas­tures beware of the long with­hold­ing peri­ods for cat­tle grazed on this pas­ture with ref­er­ence to export slaugh­ter inter­vals and export graz­ing inter­vals. These inter­vals are not always marked on insec­ti­cide labels.
Nat­ural ene­mies
Around 20 species of preda­tor and par­a­sitoids have been recorded attack­ing army­worm, but they are unlikely to pre­vent dam­age in an out­break sit­u­a­tion like those being reported.
The most fre­quently observed preda­tors are preda­tory shield bugs, lady­bee­tles, cara­bid bee­tles, lacewings and com­mon brown earwigs.
Par­a­sitoids include tach­nid flies and a num­ber of wasp species (e.g. Netelia, Lis­sopim­pla, Cam­po­letis).
Viral and fun­gal dis­eases can also cause mor­tal­ity of army­worm. Such out­breaks are more com­mon at high army­worm densities.
Click onto images to enlarge
Arti­cle by Kate Charleston and Melina Miles