Outlined in today's blog are the results for whitefly parasitism assessments, whitefly species composition and whitefly resistance testing from the 2009-2010 cotton season. 
SPECIES COMPOSITION
There has been no Q biotype detected by DEEDI entomology staff since surveillance commenced in April 2009. While Q biotype may be present in Australia at very low densities, it certainly does not pose a current management risk to growers.
 Silverleaf whitefly (SLW) was recorded at threshold levels from the Gwydir and Lower Namoi valleys for the second consecutive season. Threshold levels of whitefly were also recorded in cotton fields at Narromine in the Macquarie valley. This suggests that SLW is getting a 'foot hold' in these more southern areas and it can be expected that SLW will now be an annual cotton pest in these regions.
Greenhouse whitefly (GHW) was also recorded in high numbers at some locations on the Darling Downs this season. GHW is not a pest of cotton and does not require control but its resemblance to SLW highlights the importance of correct identification.
 Please see previous blogs for more information on species identification https://thebeatsheet.com.au/
PARASTISM ASSESSMENTS
Parasitism of SLW ranged between two percent and ninety percent across the different cotton growing regions. There is a strong trend for increasing parasitism levels as the season progresses in the absence of broad spectum insecticides. This strongly supports IPM practises for avoiding early season broad spectrum insecticides.
Parasitism levels have noticeably built up in the Gwydir area compared to last season when only low levels of parasitism were recorded. This is not unusual as there is often a lag between a pest arriving in a new locality and parasitoid numbers building up. This season fifty percent parasitism was recorded in one field in the Gwydir valley. This indicates that whitefly parasitoids are present at levels that can have considerable impact on the whitefly population.

Healthy whitefly nymph; nymph parasitised with Eretmocerus sp. (note asymmetrical position of yellow organs); nymph parasitised with Encarsia sp (note dark body of developing wasp).
For anyone who would like to learn more about how to check for parasitism or if there are any groups that would like to organise a day to look at parasitism, please contact Zara Ludgate at Toowoomba DEEDI Entomology.
RESISTANCE MONITORING RESULTS FOR COTTON IN 2009-2010
For Admiral® (pyriproxyfen), the resistance frequencies from cotton fields were low with no changes in resistance frequency from previous years. This means that we have no concerns about SLW resistance to Admiral in cotton at this stage however resistance is present in non-cotton crops. Cotton growers should not become complacent about managing whitefly resistance.
Studies from non-cotton fields indicate resistance to Admiral has developed in QLD and NSW. It is possible that this is a result of multiple applications of Admiral per season which led to selection of resistant whitefly. The cotton IRMS strategy of maximum of 1 spray per season of Admiral® must be followed.
Results for Pegasus® (Diafenthiron) show that the resistance frequencies from cotton were low with no changes in resistance frequencies from past seasons. There are currently no concerns about resistance to Pegasus®.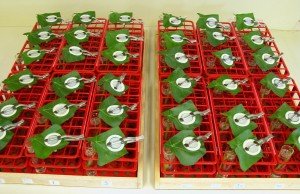 Bioassay set up to test the resistance status of whitefly to Pegasus®
Feedback
DEEDI entomology staff would like to hear from you about areas of whitefly management that require more research or extension. We encourage users to leave a comment on this page. This will help us to better direct future research and extension activities.
Article by Zara Ludgate