High rainfall and active plant growth have created perfect conditions for insects to build up in high numbers. On the Downs there have been reports of castor oil looper and common armyworm in plague numbers as well as other caterpillars including sorghum head caterpillar.
Be on the lookout for caterpillar pests and use the guide below to help with identification. Correct identification is important in management and timing of insecticide application.
Common Armyworm Leucania convecta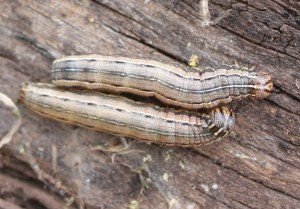 Common armyworm is generally considered a spring pest but heavy infestations have been recorded in oats in the Jondaryan area. At this time of year common armyworm can defoliate seedling crops and pasture when in high numbers. In spring, as winter cereals are maturing, infestations of armyworm arise from large migrations of moths from inland Australia. Infestations now do not mean that these fields or farms will necessarily get armyworm in spring.
Common armyworm is a hairless, striped caterpillar with three bands immediately behind the caterpillar head. They are nocturnal, hiding under plants during the day and are often observed curled up in a 'C' shape. Colour is not a useful identifier for armyworm as it is highly variable depending on diet and population levels, but the three white bands immediately behind the head are always present.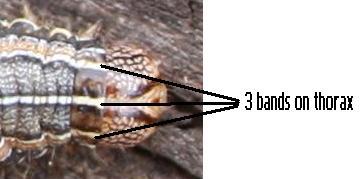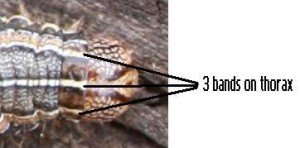 Pupa of the wasp parasitoid Cotesia sp. are present in high numbers and will be an important natural enemy for this pest.
Common armyworm is nocturnal so any insecticide should be applied at dusk/night.  Small (early instar) armyworms can be controlled with Bt which will also preserve natural enemies but it is not effective on large caterpillars. Large caterpillars can be treated with a range of chemicals including chlorpyrifos. Chemical options can be found on the APVMA website.
Be careful if treating infested pastures as there are long withholding periods for cattle grazed on this pasture with reference to export slaughter intervals and export grazing intervals. These intervals are not always marked on insecticide labels.
The export slaughter interval for chlorpyrifos is 42 days and the export grazing interval is 56 days. For  information about slaugher and grazing intervals relating to other chemicals, please contact us via the blog. 
Sorghum Head Caterpillar Cryptoblabes adoceta
Sorghum head caterpillar has been reported in the Chinchilla area in sorghum. Sorghum head caterpillar is a grain feeder with most severe damage occurring at the soft dough stage.
The most obvious identifier of sorghum head caterpillar is webbing in the grain. Caterpillars are similar in appearance to common armyworm but smaller, reaching a maximum size of about 13mm long. Sorghum head caterpillar does not have the three white bands immediately behind the head, and its body is tapered at both head and tail end.
Webbing can make it difficult to get good contact with the larvae when treating infestations with insecticide.
Castor Oil Looper Achaea janata
Castor oil looper infestations have been reported across the Downs https://thebeatsheet.com.au/general/castor-oil-looper-outbreak/ . Castor oil looper is a pest of broadleaf crops like soybean although most outbreaks in the past few weeks have been in pastures where caterpillars are feeding on broadleaf weeds like pig weed and marshmallow weed.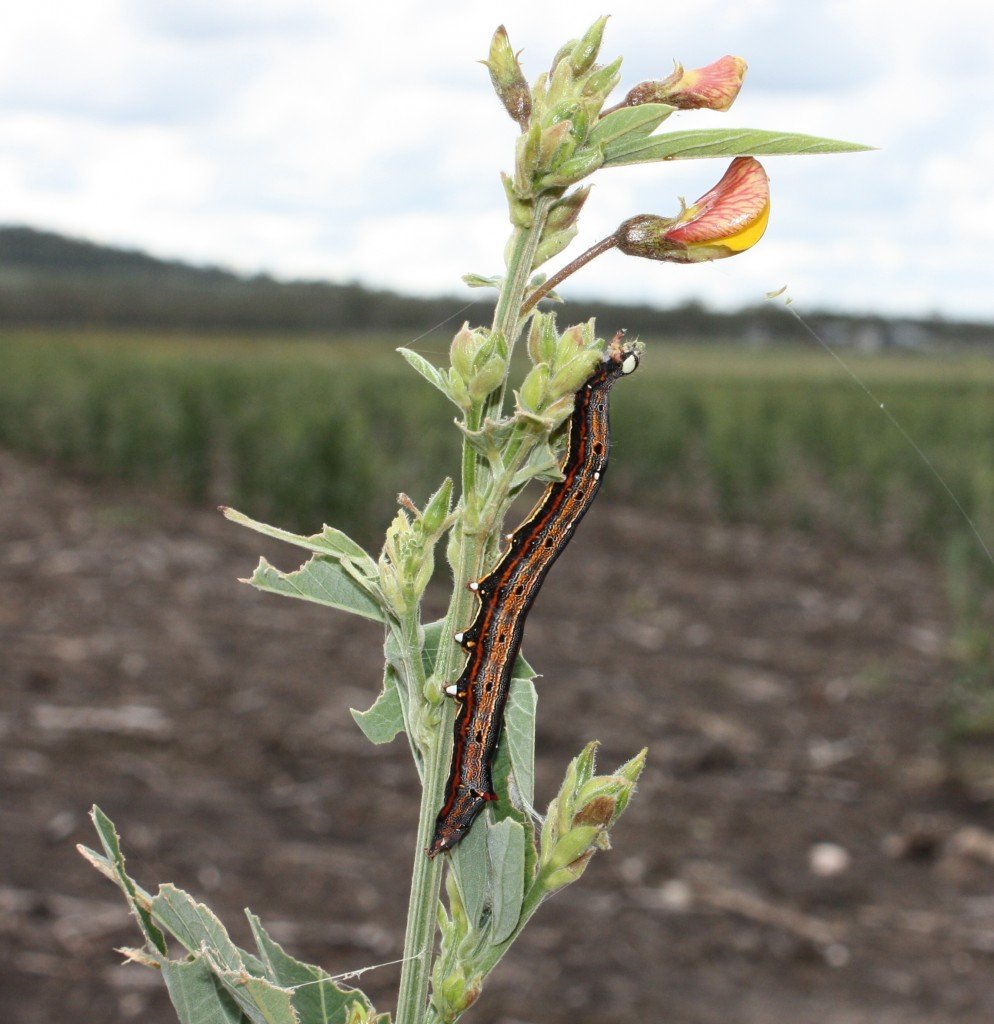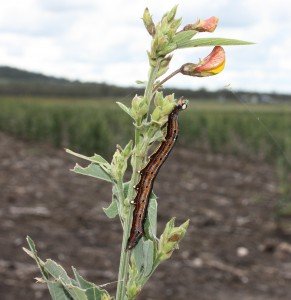 Castor oil looper is identifiable by a dark band running across its back. It is highly variable in colour and may be striated with various colours including red, pink and black.
Insecticidal control is best targeted at small grubs however outbreaks of castor oil looper are relatively uncommon in crops. They could potentially create a dilemma in pigeon pea refuges as Bt products (e.g. Dipel) can not be used in a Bollgard® cotton refuge.
Article by Zara Ludgate