The recently published "Good Bug, Bad Bug" insect identification guide will be an invaluable tool for pulse producers in Queensland and NSW. The new guide features over 300 glossy photos of insects found in pulse crops and will help growers and their advisers to confidently identify the pest and beneficial insects that occur in their crops.
Hugh Brier, DEEDI Senior Entomologist and author of the book says what makes this publication so special is that all pulse pests and beneficials are featured in one book.
Hugh Brier in a crop of soybeans with the 'Good Bug, Bad Bug' guide
The layout also ensures that users can quickly find what they are looking for. Similar looking insects – good and bad – can be found on the same or adjacent pages which allows for a rapid comparison and identification of insects. Images are colour coded so that pests and their natural enemies are easily distinguished. All photographs contain a brief summary of the insect's status as pest or beneficial and their key characteristics. See below an example of a page from the guide.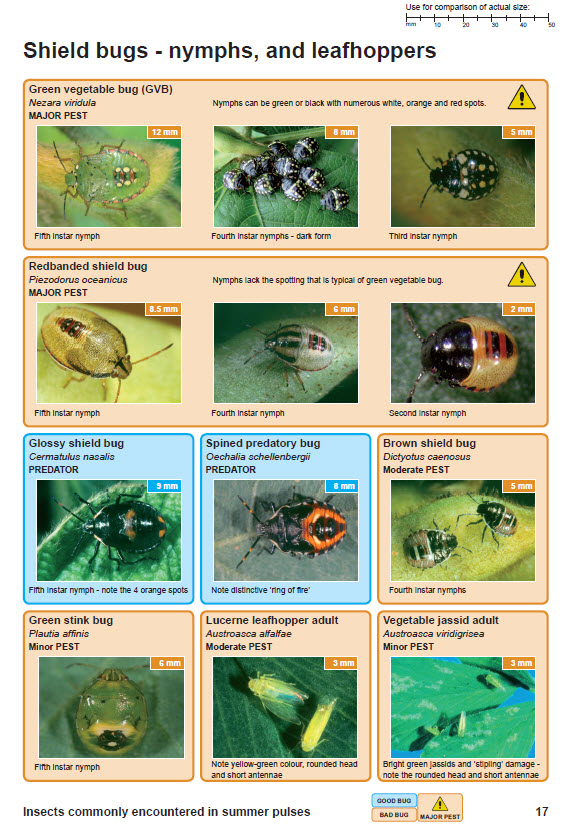 This 44 page guide is ideal to take out in the field. Along with the identification information there are sections on integrated pest management, crop sampling techniques and insect pest thresholds for the different pulse crops.
Most photographs in the guide are the work of veteran insect photographer, Joe Wessels – long-time research assistant with entomology at DEEDI in Kingaroy.
Publication of the guide was funded by industry and has been enthusiastically received by pulse crop growers, agronomists and consultants from North Queensland to New South Wales.
You can obtain a copy of the guide from Hugh Brier or Kate Charleston – our details are listed in the DEEDI entomology contacts page at the top of the screen. You can also obtain a PDF copy of the guide (2.5 MB) from the resources page.