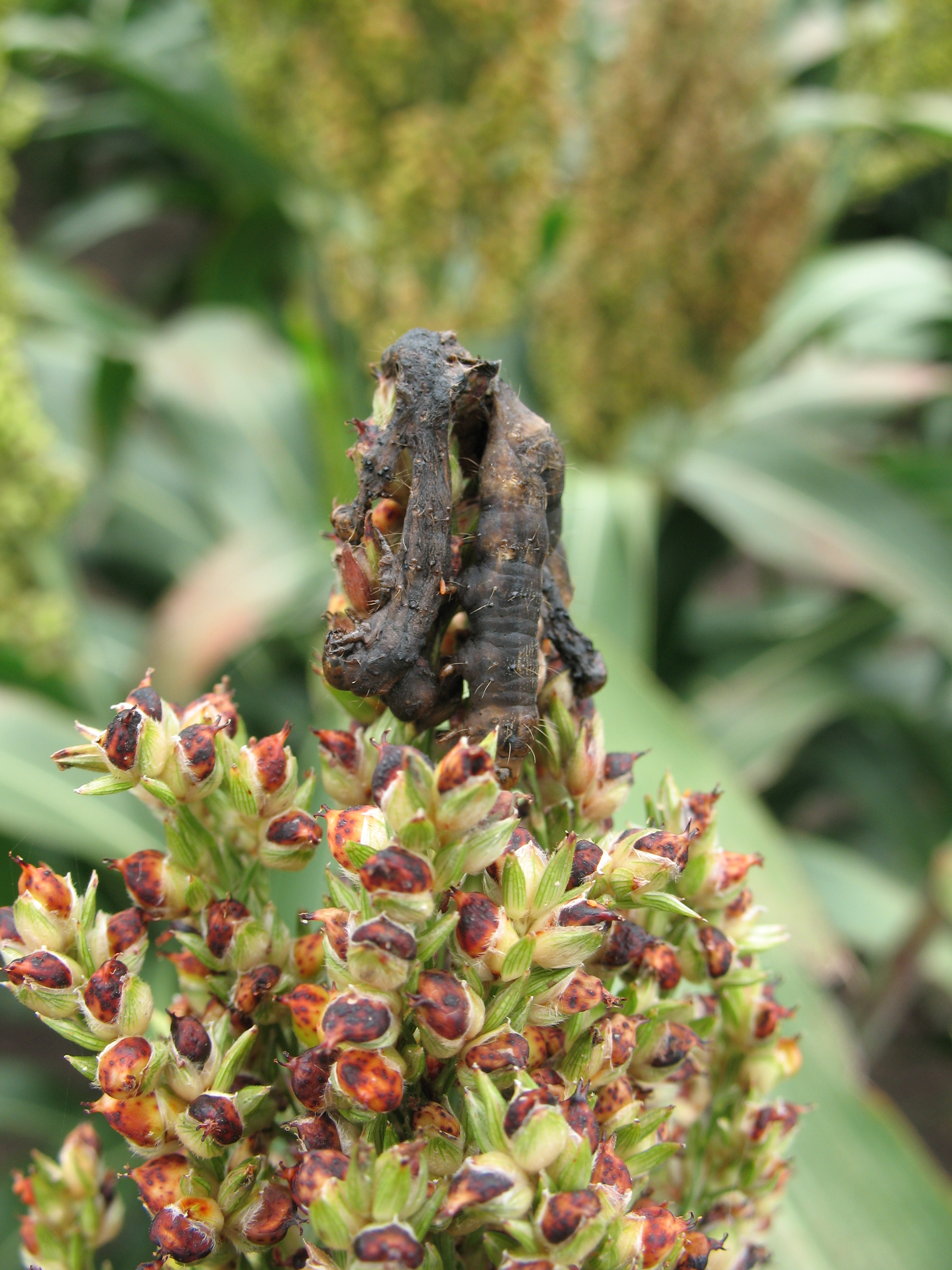 As the ear­li­er plant­i­ngs of sorghum progress through flow­er­ing, mod­er­ate to high Heli­cov­er­pa pres­sure means that many crops have cater­pil­lar num­bers over thresh­old. Nucle­opoly­he­drovirus (NPV) is one of the main insec­ti­cides used to con­trol Heli­cov­er­pa lar­vae in sorghum, how­ev­er pre­vail­ing con­di­tions play an impor­tant role in the speed and lev­el of con­trol achieved with NPV.
Cool­er weath­er
Lar­vae need to be active­ly feed­ing when NPV is applied for good con­trol to be achieved. Because lar­val feed­ing rate is large­ly gov­erned by tem­per­a­ture, NPV is rec­om­mend­ed to be applied between 25°C and 35°C. How­ev­er good per­for­mance can be achieved under cool­er con­di­tions, with appli­ca­tion tem­per­a­tures above 18°C con­sid­ered accept­able. Tem­per­a­tures below 15°C can cause lar­vae to stop feed­ing, and pro­longed peri­ods below 15°C may cause "cold shock", with lar­vae tak­ing a few hours of warmer con­di­tions to recov­er. For this rea­son, it best to delay apply­ing NPV until tem­per­a­tures have warmed to above 20°C fol­low­ing a cold night.
The cool­er con­di­tions will also mean that con­trol with NPV will be slow­er than usu­al, since the rate of virus infec­tion is pro­por­tion­al to insect growth rate. Expect to see small (1st and 2nd instar) lar­vae dying with­in 6 days, how­ev­er medi­um (3rd instar) lar­vae may take up to 8 days to die, depend­ing on the aver­age tem­per­a­ture. Lar­vae dying slow­ly due to cool weath­er will not increase the lev­el of dam­age from lar­val feed­ing.
Apply­ing NPV where rain is fore­cast
The like­li­hood of wet weath­er rais­es ques­tions about how best to time NPV appli­ca­tions when rain is expect­ed. NPV is sig­nif­i­cant­ly more effec­tive against small­er lar­vae, so delay­ing appli­ca­tion can impact on per­for­mance.
Many years of field expe­ri­ence has shown that rain­fall fol­low­ing an appli­ca­tion gen­er­al­ly has no impact on NPV per­for­mance, or may even have a pos­i­tive impact on NPV per­for­mance (NPV is spread by rain­fall splash). So do not delay an appli­ca­tion if light to mod­er­ate rain is expect­ed. Where very heavy rain­fall is expect­ed with­in one hour after appli­ca­tion, it is advised to delay appli­ca­tion until con­di­tions improve, as there is a risk of the virus being washed off the crop before it is ingest­ed by the lar­vae.
Oth­er key issues relat­ing to NPV use
Ide­al­ly apply

NPV

when lar­vae are less than 7 mm in length (2nd instar – small). These size lar­vae are more effec­tive­ly con­trolled with low­er rates of

NPV

Do not tar­get lar­vae over 13 mm in length (4th instar – medi­um) with

NPV

– con­trol will be com­pro­mised and these lar­vae will do sig­nif­i­cant dam­age before suc­cumb­ing to

NPV

infec­tion
There is no eco­nom­ic ben­e­fit in con­trol­ling lar­vae with

NPV

in pre-flow­er­ing sorghum
Arti­cle by Antho­ny Hawes