Heli­cov­er­pa are the pri­ma­ry insect pest of chick­peas. Ben­e­fi­cial insects that are present in many crops do not thrive in chick­peas, so suc­cess­ful heli­cov­er­pa man­age­ment relies heav­i­ly on mon­i­tor­ing and iden­ti­fi­ca­tion, appro­pri­ate­ly tim­ing con­trol to crop stage, and using the rec­om­mend­ed thresh­olds.
Mon­i­tor­ing involves reg­u­lar in-field check­ing with a beat sheet. Addi­tion­al­ly, moth num­bers can be mon­i­tored using pheromone traps (see the video on how to set them up).
The Depart­ment of Agri­cul­ture and Fish­eries main­tains a net­work of traps from August-Novem­ber, part of a nation­al heli­cov­er­pa mon­i­tor­ing effort (see Table 1).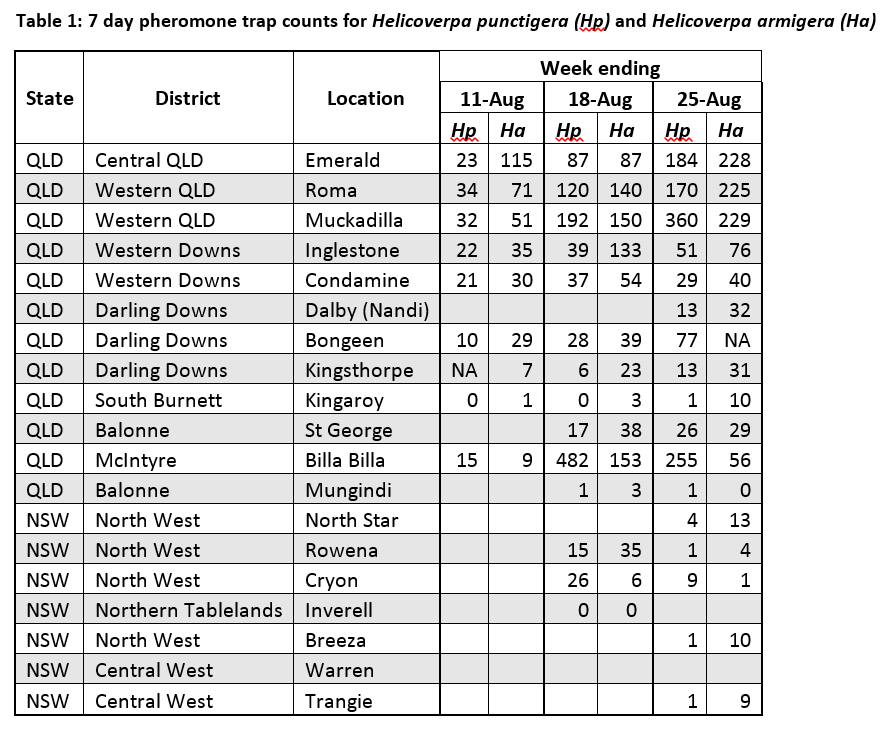 Why bother to monitor helicoverpa using pheromone traps?
In regions where Heli­cov­er­pa armigera are more preva­lent (gen­er­al­ly north of Dub­bo), one of the key ques­tions about ear­ly spring infes­ta­tions is the rel­a­tive pro­por­tion of H. armigera (corn ear­worm, cot­ton boll­worm) and H. punctig­era (native bud­worm) present in the pop­u­la­tions. Whilst H. punctig­era is sus­cep­ti­ble to all reg­is­tered insec­ti­cides, H. armigera is resis­tant to the old­er prod­ucts (syn­thet­ic pyrethroids and organophos­phates), and treat­ing a resis­tant pop­u­la­tion can result in a spray fail­ure. The reduced effi­ca­cy of these prod­ucts can be masked when treat­ing low den­si­ties e.g. just above the thresh­old of 2–3/sqm. For exam­ple, if resis­tance reduces a pesticide's effi­ca­cy to 70%, a spray applied to 4 larvae/sqm will reduce the pop­u­la­tion to below thresh­old. How­ev­er, if the ini­tial pop­u­la­tion was 15 larvae/sqm, 4.5 larvae/sqm would remain in the crop – still above the thresh­old.
H. armigera in crops this early– is that normal?
The pro­por­tion of H. armigera enter­ing dia­pause in March–April varies between sea­sons, depend­ing on the tem­per­a­tures expe­ri­enced. This autumn was rel­a­tive­ly warm, so a high­er pro­por­tion of pupae have not entered dia­pause and con­tin­ue to devel­op slow­ly through win­ter, emerg­ing in late win­ter as tem­per­a­tures warm up. The graphs in Fig­ure 1 show how much low­er than aver­age the pre­dict­ed per­cent­age of dia­paus­ing pupae were in four dif­fer­ent regions (Lach­lan, Namoi, Gwydir, and Dar­ling Downs) dur­ing March.
Figure 1. CottAssist-generated comparison of 2017 rate of diapause induction (% pupae entering diapause) with long term averages (coolest/warmest years, long term average). 2017 data is represented by the black line which dips to the lowest % during March (click on a graph for a larger image).
Using pheromone trap data to inform management decisions
Moth trap data is no sub­sti­tute for crop check­ing. Moth traps are indi­ca­tors of the pres­ence of adults only, not an actu­al count of lar­val pest pres­sure in your pad­dock.
The pres­ence of moths in the traps means there are moths in the dis­trict. If there are H. armigera in the traps, you can assume there will be a cer­tain pro­por­tion of H. armigera in your crops. How­ev­er, the rel­a­tive num­bers of H. armigera and H. punctig­era in the traps is not a good indi­ca­tor of the pro­por­tion of H.armigera and H. punctig­era lar­vae in the crop as there are a num­ber of fac­tors that influ­ence egg lay­ing and egg/larval sur­vival.
Peaks in moth trap catch­es are good indi­ca­tors of peri­ods of high moth activ­i­ty. These could be caused by influx­es, emer­gence from dia­pause and/or warm nigh time con­di­tions suit­able for moth activ­i­ty. There is cur­rent­ly no avail­able research cor­re­lat­ing moth trap catch­es and lar­val num­bers in chick­peas. Con­se­quent­ly, we don't know what num­bers of moths are like­ly to result in lar­val den­si­ties above the eco­nom­ic thresh­old (see Eco­nom­ic Thresh­old Cal­cu­la­tor). A low num­ber of moths would be <20/week, and a very high num­ber 500‑1000 moths/week.
If you're north of Dub­bo: ignore the moth trap data this sea­son and assume there are H. armigera in the crop. Plan your crop mon­i­tor­ing and make your man­age­ment deci­sions accord­ing­ly.
Key points to remember when managing helicoverpa in chickpeas
Con­sid­er crop stage. Heli­cov­er­pa can­not cause crop loss if there are no pods. Spray­ing dur­ing flow­er­ing, before pods are set is of no ben­e­fit in pro­tect­ing the crop from loss.
Con­sid­er pest stage. Heli­cov­er­pa lar­vae will feed on leaves (not flow­ers or buds) until they are medi­um size (>7 mm). Medi­um and large lar­vae in the crop dur­ing flow­er­ing may com­plete devel­op­ment before the crop sets pods.
Con­sid­er envi­ron­men­tal con­di­tions. If frost is pre­dict­ed, heli­cov­er­pa num­bers are over thresh­old, and there are min­i­mal pods per plant, delay the spray and check to see if the pods have sur­vived the frost.
In most years, one spray dur­ing pod­ding will be suf­fi­cient to con­trol heli­cov­er­pa and pre­vent crop loss. The longer you delay the first spray, the less like­ly it is that you will require a sec­ond spray.
Use a beat sheet to assess the num­ber and size of lar­vae in the crop (see a demon­stra­tion in this how-to video).
If you need a refresh­er on lar­val size:
| | | | |
| --- | --- | --- | --- |
| Instar | Size cat­e­go­ry | Length of lar­va (mm) | Notes |
| 1 | Very small (VS) | 1–3 | High nat­ur­al mor­tal­i­ty |
| 2 | Small (S) | 4–7 | |
| 3–4 | Medi­um (M) | 8–23 | |
| 5–6 | Large (L) | 24–40+ | Cause 80% of feed­ing dam­age |
Use the thresh­old cal­cu­la­tor to check what thresh­old is appro­pri­ate for your esti­mat­ed cost of con­trol (+ appli­ca­tion) and grain val­ue.
For more information on the management of helicoverpa in chickpeas: