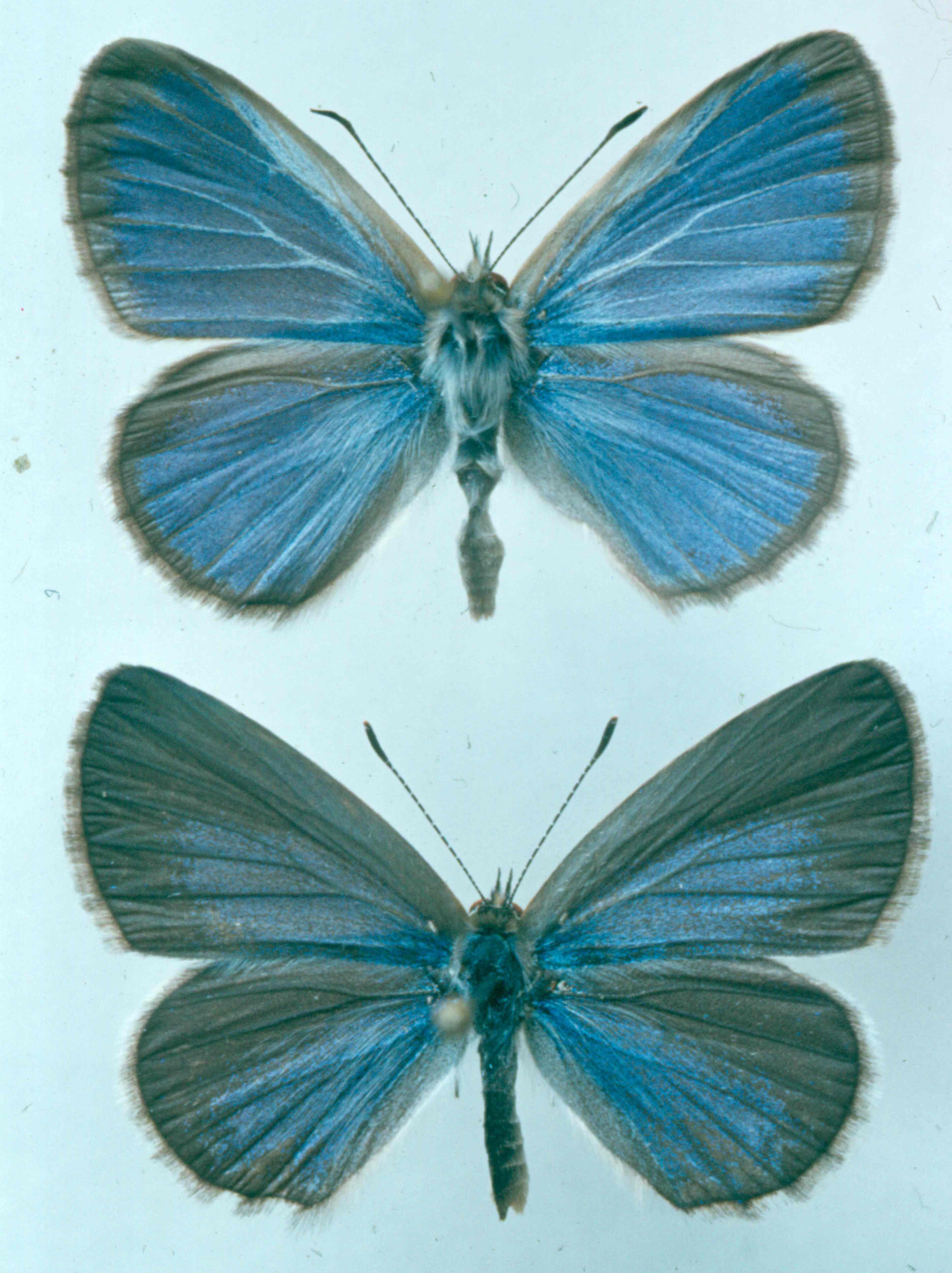 Notice­able num­bers of grass blue but­ter­fly lar­vae (Ziz­ina labradus) have been observed in young soy­bean crops in the Wide Bay Bur­nett. While the small green lar­vae (max­i­mum length 10 mm) may be dif­fi­cult to see in the crops, the dam­age they cause is very obvi­ous.
Grass blue but­ter­fly lar­vae feed­ing results in win­dow­ing of the leaves (this is most­ly cos­met­ic) and destruc­tion of veg­e­ta­tive ter­mi­nals.
The lat­ter dam­age is of greater con­cern. Ter­mi­nal death (tip­ping) can result in crops set­ting pods low to the ground where they are more dif­fi­cult to har­vest. Dam­age in most crops has been uneco­nom­ic to date.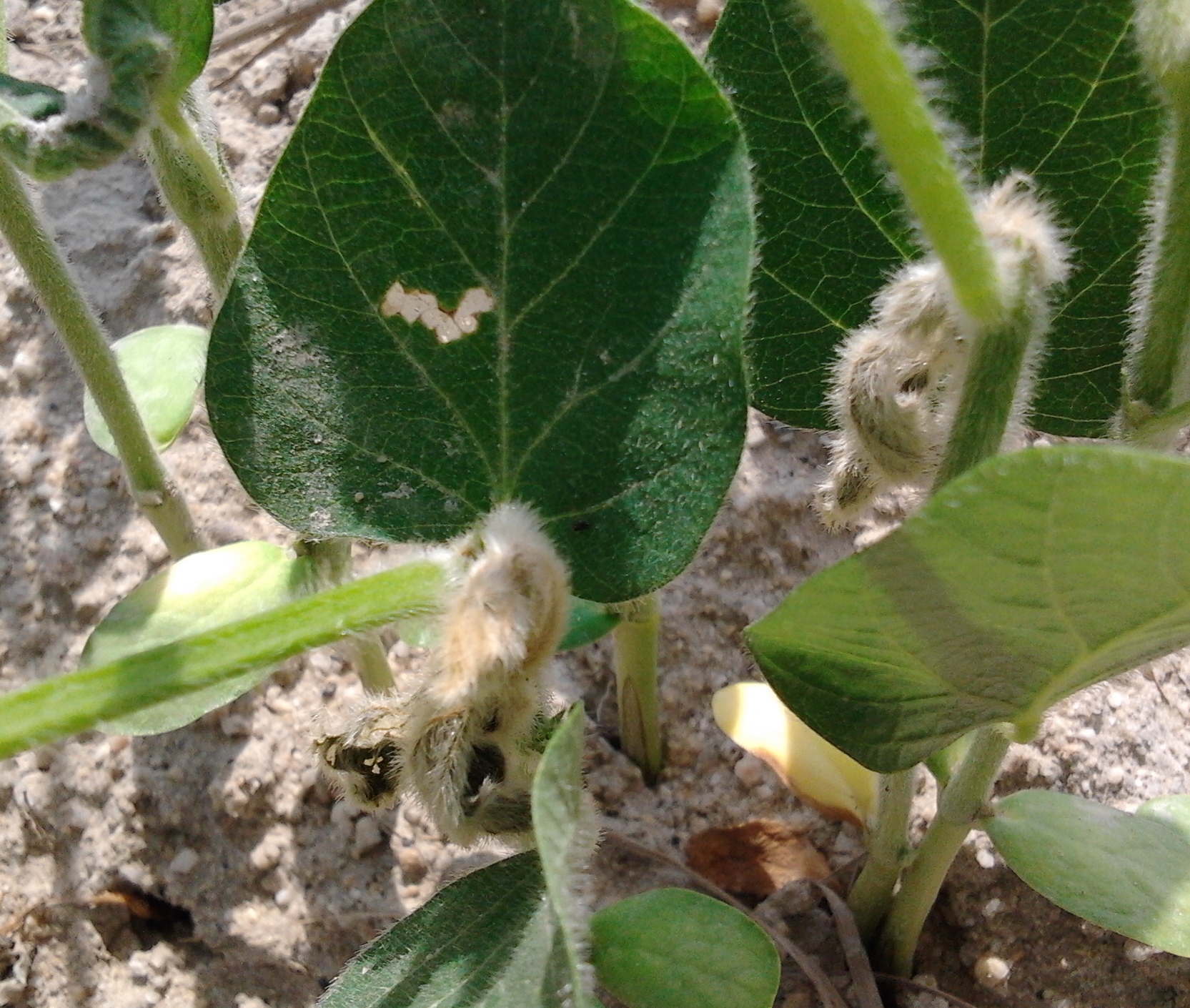 Thresh­olds are deter­mined at 25% ter­mi­nal loss.
How­ev­er after the cur­rent rain event dies down, grow­ers should re-inspect crops for any ter­mi­nal death symp­toms. Oth­er ear­ly signs of infes­ta­tion of this pest include the small blue-winged adults (but­ter­flies) flit­ting over the crop, and the pres­ence of their rel­a­tive­ly large (0.6mm diam­e­ter) pale blue eggs.
Grass blue lar­vae are often con­fused with hov­er­fly lar­vae. They are of sim­i­lar appear­ance and size but hov­er­fly lar­vae are key aphid and white­fly preda­tors.. Hov­er­fly lar­vae are 'true fly' lar­vae or mag­gots and they dif­fer from grass blue lar­va in that they do not have a head cap­sule, true seg­ment­ed legs and fleshy pro­legs.
To con­firm that you have pest (the grass blue lar­vae) and not the ben­e­fi­cial, flip them over to check for the (nor­mal­ly hid­den) head cap­sule, 3 pairs of prop­er legs (at the head end) and 4 pairs of ven­tral pro­legs. These legs are posi­tioned towards the larva's mid-line and are not vis­i­ble from above. Anoth­er way to con­firm iden­ti­ty is to place the lar­vae in a jar with some leaves – the hov­er­fly lar­vae will not eat the leaves but instead rear up to look for prey while the plant pest will eat the leaves.
Hov­er­fly lar­vae Grass blue but­ter­fly lar­vae

Man­age­ment
There are no reg­is­tered insec­ti­cides for the con­trol of grass blue but­ter­fly in pulse crops. How­ev­er, insec­ti­cides used for the con­trol of heli­cov­er­pa will inci­den­tal­ly con­trol this pest as well.
DEEDI

sci­en­tists at Kingaroy are cur­rent­ly look­ing for

IPM

friend­ly solu­tions to man­age this (occa­sion­al) pest. It is impor­tant that any means of con­trol min­imis­es the risk of flar­ing sil­ver­leaf white­fly, notice­able (but not dam­ag­ing) num­bers of which were seen in many regions, at least before the recent heavy rains.
Arti­cle by Hugh Brier — DEEDI ento­mol­o­gist, Kingaroy
Some addi­tion­al notes:
Lar­vae are often attend­ed by pro­tec­tive ants which feed on excre­tions made by the lar­vae. A quick way to find the lar­vae is to look for ants.
Lar­vae can also be sam­pled with a beat­sheet
Dipel SC is reg­is­tered for all Lep­i­doptera pests in puls­es (includ­ing soy­beans).