Over the past few years the Queens­land DAFF ento­mol­o­gy team has led a team of nation­al col­lab­o­ra­tors to devel­op an excit­ing new nation­al 'IPM guide­lines for grains' web­site.
The web­site focus­es on the major grain crops and their pests, and includes a range of sup­port­ing infor­ma­tion to guide users in mak­ing pest man­age­ment deci­sions.
What is dif­fer­ent about this web­site com­pared to oth­er pest man­age­ment web­sites?
Rather than being pre­scrip­tive, the IPM guide­lines use a prob­lem-solv­ing approach, draw­ing on the avail­able pest man­age­ment tools with­in a spe­cific crop at var­i­ous stages of crop devel­op­ment. Rel­e­vant region­al dif­fer­ences are also includ­ed.
The con­tent has been kept sim­ple and easy to nav­i­gate. Each crop page high­lights the rel­a­tive risk of pest attack as the crop grows, and pro­vides a list of pests that are poten­tial­ly dam­ag­ing. Pest pages focus on man­age­ment tac­tics for each crop stage, includ­ing 'off sea­son' oper­a­tions and plan­ning. Images are includ­ed to assist with iden­ti­fi­ca­tion of pests and ben­e­fi­cials.
An exten­sive col­lec­tion of sup­port­ing mate­r­i­al is avail­able both on the site and via exter­nal links. The web­site is a com­pre­hen­sive source of infor­ma­tion about IPM in grains, includ­ing both tra­di­tion­al and nov­el meth­ods of pest man­age­ment, and will be a valu­able deci­sion mak­ing tool for pest man­age­ment in grains through­out Aus­tralia.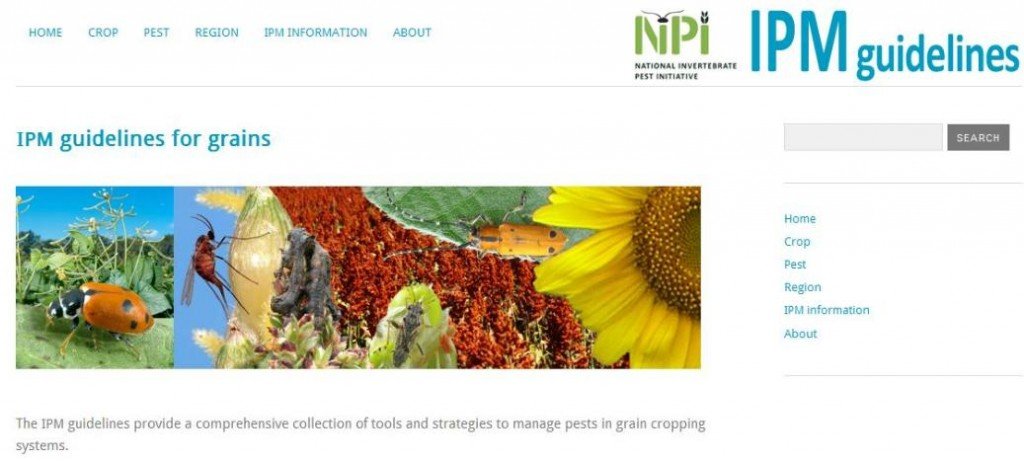 Vis­it the site at http://ipmguidelinesforgrains.com.au or click onto the image above. To pro­vide feed­back on this web­site, click on sug­ges­tions and com­ments at the bot­tom of the page.
The IPM guide­lines for grains web­site was fund­ed by the Nation­al Inver­te­brate Pest Ini­tia­tive (NIPI), which is sup­port­ed by grow­ers and the Aus­tralian Fed­er­al Gov­ern­ment through the Grains Research and Devel­op­ment Cor­po­ra­tion (GRDC).