As win­ter crops fin­ish up and approach har­vest, there are a cou­ple of pests that still have the poten­tial to cause some con­cerns.
Armyworm and helicoverpa in barley, wheat and oats.
There have been a num­ber of reports of army­worm activ­i­ty across the north­ern region in iso­lat­ed pock­ets. Army­worm has the capac­i­ty to lop heads in bar­ley, wheat and oats after the crops have turned. As the crop turns the stems dry down, but the nodes take longer to dry, stay­ing green for some time after the rest of the plant is dry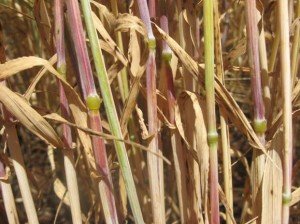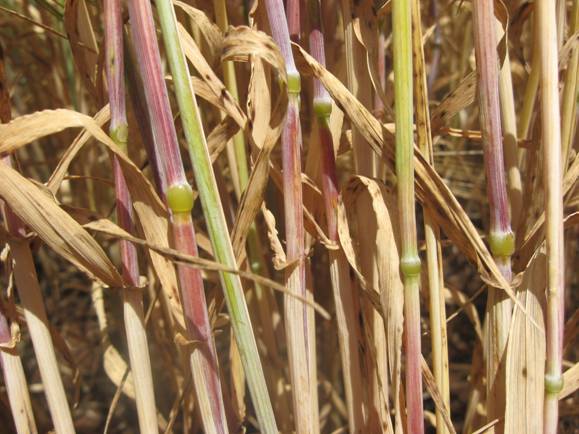 Green nodes on oth­er­wise dry bar­ley plants
As a result, army­worm that had been feed­ing on leaf mate­r­i­al before it dried off, feed on the only green part of the plant left, the nodes. When the lar­vae feed on the node below the head it results in the char­ac­ter­is­tic head lop­ping.
It is esti­mat­ed that one large army­worm lar­va can lop up to 7 heads per day (army­worms are active most­ly at night). At one lar­va per square metre, that equates to around 70 kg/ha of lost grain per day. A dam­ag­ing lar­va may be active for up to 10 days before pupat­ing (see pre­vi­ous Beat­sheet post­ing on cal­cu­lat­ing army­worm dam­age in wheat https://thebeatsheet.com.au/winter-cereals/armyworm-in-wheat/).
Mon­i­tor for army­worm with a sweep net and look for evi­dence of lar­vae feed­ing in the crop – ragged leaves, frass along the rows and lopped heads.
Heli­cov­er­pa may also be present in bar­ley and wheat crops. Mon­i­tor for them in the same way as for army­worm. Heli­cov­er­pa tend to graze on devel­op­ing grain and the impact of this dam­age is much less than that caused by army­worm because typ­i­cal­ly only a few grains per head are dam­aged. Heli­cov­er­pa do not head lop like army­worm.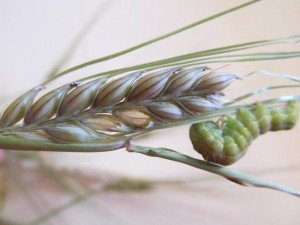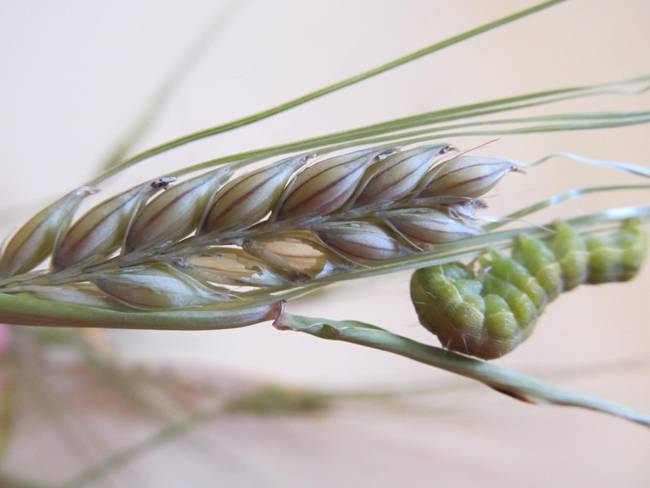 Heli­cov­er­pa lar­va and graz­ing dam­age to bar­ley head.
Helicoverpa in chickpea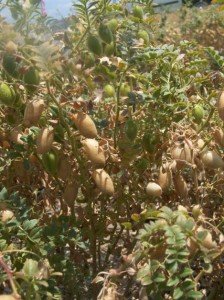 As chick­pea crops fin­ish off, ongo­ing rain is result­ing in some crops reshoot­ing, pro­vid­ing green mate­r­i­al on which heli­cov­er­pa can con­tin­ue to feed. The impact of these lar­vae is lim­it­ed if the bulk of the pods are dry and mature, even large lar­vae can­not pen­e­trate a dry pod. How­ev­er, imma­ture pods and pods soft­ened by reg­u­lar rain­fall are sus­cep­ti­ble.
These per­sis­tent lar­vae will turn up in beat­sheet sam­pling, but it is more crit­i­cal at this stage of the sea­son to deter­mine how sus­cep­ti­ble the crop is, rather than focussing on the num­ber of lar­vae on the beat­sheet.
It may be appro­pri­ate to dessi­cate the crop, rather than wait for it to dry down nat­u­ral­ly. With­out green leaves or pods to feed on, heli­cov­er­pa lar­vae will not sur­vive.
Arti­cle by Meli­na Miles